Conceptualised by publisher Lokesh Singh and editor Sandra Baptiste over two years ago, the magazine was launched by Advertising Marketing Services (AMS).
Speaking at the launch, Singh stated, "investment is a big initiative in any country. Environment changes on an annual basis; you are assuming that there is going to be progressive development". He said Guyana needed to have a venue to highlight in a comprehensive package the multiple avenues that necessary to investment that investors are successfully navigating.
Singh noted that both mining and construction were very large sectors that currently dominate Guyana's investment market, but next year that may change and it was the goal of the magazine to be inclusive of potential investment breakthroughs.
He said the magazine was his personal initiative and he partnered with both the private and public sectors to ensure that the comprehensive nature of the magazine was adhered to. "Government facilitates [and] the private sector executes so for me and my interests it is to ensure that there is information that this country has some great things to offer," he added.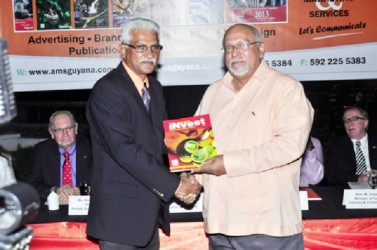 Singh has previously been involved with other local publications, including the Georgetown Chamber of Commerce and Industry Business Guyana Magazine.
Head of the Private Sector Commission Ronald Webster committed his support. He said an annual business publication targeting local and foreign investors was a product that could measure growth on a yearly basis. Webster stated that travelling Guyanese diplomats should have a sense that there are products out there representing Guyana's growth and investment potential.
The magazine's editor, Baptiste stated that in the competitive global market Guyana needed to sustain aggressive international marketing. She said Invest Guyana would act as a "promotional tool".
The magazine launch was also attended by President Donald Ramotar and Canadian High Commissioner David Devine who both addressed the audience. Among the pages four local businesses were featured; Avinash Movie Complex, Choice Hotel, JR Burger and Giftland OfficeMax. The local businesses were highlighted for their grassroots start-ups and their highly successful evolutions. Invest Guyana also tackled why investment was beneficial and where investments have shown to be prosperous.
At the end of the month the AMS team will travel to Miami, Florida for a second launch of the magazine at a Caribbean forum attended by the Diaspora and international investors.
Comments

Former President Donald Ramotar yesterday said that the contract he signed with Canadian oil explorer, CGX followed a template for all agreements clinched before petroleum was discovered in 2015 and its release is a "lame" attempt by the government to compare it with the 2016 one signed with ExxonMobil  following the major hydrocarbon discovery in 2015.
The Guyana Sugar Corporation and the Special Purpose Unit (SPU) of NICIL are at loggerheads again over control of the estates which last weekend saw GuySuCo security barring SPU contracted engineers and other workers from entering the Enmore Estate.

A 21-year-old disc jockey lost his life during the wee hours of yesterday after the vehicle he was returning home in toppled several times before coming to a halt in a drain at Number 6 Village, West Coast Berbice (WCB).

An early Sunday morning vehicular accident on the Vreed-en- Hoop, West Coast Demerara public road has claimed the life of a 28-year-old  female, Donikel Campbelle 28, of Ann's Grove, East Coast Demerara.
Two business owners, who claimed that they went ahead and constructed a supermarket with their own cash based on an oral assurance by the then Chief Executive of GBTI that the financial institution would have granted them a loan, have lost a High Court case and now have to repay the bank more than $56 million plus interest and costs.