Guyanese Ivelaw Griffith, an expert in Caribbean security issues, has been named as the next president of Fort Valley State University in middle Georgia, USA.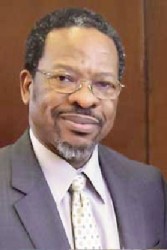 The Associated Press reported that Griffith is currently the provost and senior vice president at York College of the City University of New York. He was the sole finalist, and the board's vote on Friday was unanimous, AP said.
University officials say Griffith has served in his current position since 2007 and has upped the number of full-time faculty at York College by 30 percent, reorganized the academic division and set up an undergraduate student research programme.
Comments

(Reuters) – England's top order fired in unison to give them a four-wicket win in the second one-day international against Australia on Friday as Aaron Finch's second straight hundred for the hosts could not prevent them falling 2-0 behind in the series.

Four weeks after passing a $267 billion budget for 2018, the National Assembly will debate a supplemental provision of $1.75 billion to meet a portion of the severance pay for around 4,000 sugar workers.

Autopsies performed on the bodies of Ambrose Baharally and Martin Godette, the Pomeroon farmers who were shot dead on Sunday, have found that both men died from gunshot injuries to the head.

The ground-breaking Whistleblower Protection Bill was passed in the National Assembly last evening without amendment, although there was opposition to the formulation of a commission to act as the governing body.

The preservation of land assets is essential to the creation of a green state and a good life for future generations, President David Granger said yesterday at the launch of a US$15M Sustainable Land Development and Management Project.