Police of Osceola County, Orlando, Florida  on Tuesday arrested four persons who they say have admitted to killing Guyanese American Eric Roopnarine in his home on the wee hours of July 4 in a robbery plot.
Among the four arrested were a 15-year-old boy and a 20-year-old man, David Damus. The four were also allegedly involved in the murder of another person, David Guerrero, in a separate robbery, and a recent shooting spree in the greater Orlando area where a lot of Guyanese and other West Indians are settled. The two other accused arrested are Juan Sebastian Muriel, 20, and Victoria Rios, 17. All four have been charged with first degree murder for Roopnarine and the first two have been charged with first degree murder for Guerrero.
Eric comes from a religious family that had run a temple out of their home for several years. They are well known by pandits from Guyana and people were shocked to learn of the killing. Eric's mother, Seema, and maternal grandparents  (Sadhu and Kamin) are from Ankerville, Port Mourant while his father (Pooran) and paternal grands are from Upper Corentyne.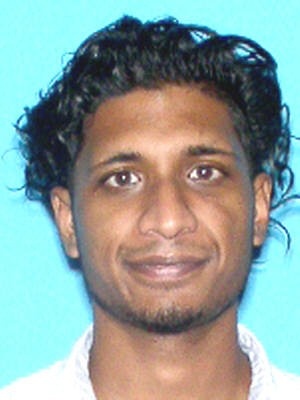 The two killings are part of a dozen random shootings that authorities say turned the Poinciana area of Orlando area upside down. "We living in fear, living in fear, all of us," said Wayne Hamilton to WFTV.com. A bullet went through his 3-year-old daughter's window.
At the centre of it all, authorities say, was the 15-year-old who, along with Damus allegedly shot up homes and killed Guerrero for "fun." Investigators said Schafer and Damus, along with two other teens, also carried out a home invasion, robbery and murder at Roopnarine's home, on July 4. People who knew Schafer and Damus were shocked to learn of their arrests.
"I would never believe, I would never imagine it," Schafer's neighbour Rosa Aguilar said to WFTV.com. "Very, very, very quiet guy, very good guy," added Damus' cousin Anthony Dorvilier. News reports said that the break in the case came when volunteers found a .45 calibre casing in a pond near where Guerrero was murdered. The same type of bullet was used in all the shootings and linked to one gun.
Authorities said the powerful .45 calibre rifle used in the shootings belonged to Schafer's dad, who they tracked down after realizing he purchased it a day before the shootings started. Schafer's dad told authorities he had no idea what his son was doing with the gun. Schafer, 15, confessed he used his father's high-powered rifle for the shootings. All four are being held without bond and were scheduled to face a judge for the first time today.
"To think about the loss of a child at the hands of somebody that just thought it was fun, it's just unsettling," said Kissimmee police Chief Lee Massie. Deputies charged Schafer, Damus, Muriel, 20, and Victoria Rios, 17, with first-degree murder in the death of Roopnarine.
His mother, Seema, said she left the home for an hour and a half to pick up her sister at the airport, and when she returned, her son was dead. There were no signs of forced entry in the home. Rios reportedly knew Roopnarine from Facebook.
"How can somebody who's a functioning, breathing human bring themselves to such cruelty? I don't know if it's a hole in their soul or what it is," said Osceola County Sheriff Bob Hansell.
Comments

UN experts condemn racist violence in U.S., urge investigations GENEVA, (Reuters) – United Nations human rights experts called on the United States today to combat rising racist violence and xenophobia and to prosecute perpetrators of hate crimes.

The twin-engine Beech aircraft seized by authorities on an improvised airstrip on Sunday in the North Rupununi, Region Nine area, was yesterday confirmed as bearing a registration number belonging to an investment company in Brazil.

ExxonMobil yesterday signed a deal with Guyana Shore Base Inc (GYSBI) for an onshore support facility at Houston on the East Bank of Demerara.
While students who sat Caribbean Examination Council (CXC) exams in May and June of this year will be able to access their results online on Friday, the Ministry of Education has already announced that Guyana has recorded a 7% increase in passes at the Caribbean Advanced Proficiency Examinations (CAPE).

A post-mortem examination is expected to be done today to determine the cause of death of a nine-month-old baby, who died on Monday after she was left in a car.