Guyana will be exploring the prospect of exporting other goods to Venezuela during the visit of that country's President Nicholas Maduro later this month, according to Minister of Foreign Affairs, Carolyn Rodrigues-Birkett.
Under the PetroCaribe oil deal, Guyana is supplying large amounts of rice to Venezuela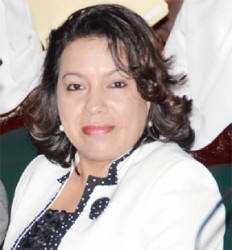 which offsets the monies owing to Caracas for the supply of oil.
According to the Government Information Agency, Rodrigues-Birkett said that while the rice agreement is working well, the Government would be exploring the possibility of exporting other local products.
Rodrigues-Birkett said that, "Venezuela has been a very good friend to Guyana and this visit will strengthen those relations." GINA said yesterday that among some of the bilateral issues that will be discussed are Guyana's associate membership with MERCOSUR.
Discussions are also expected to be held on the PetroCaribe deal.
The Foreign Affairs Minister said that despite media reports, Venezuela has given no sign thus far, of any changes with regards to PetroCaribe.
It has been said in regional media reports that the rate of interest for oil payments under the deal will rise.
Rodrigues-Birkett said  that this is an appropriate time for Guyana and other members of PetroCaribe to review and take stock of what has been happening, GINA reported.
"Guyana has been adhering to the PetroCaribe arrangement, more than many others I think… we have been supplying rice and we have been receiving oil, so in a way we have been repaying our debts," Minister Rodrigues-Birkett said.
Comments

The Management of Cheddi Jagan International Airport Corporation (CJIAC) is currently undertaking a massive expansion project  and a Temporary Arrivals Terminal Building was recently constructed.

Tourism Minister Shamfa Cudjoe announced the decision to close the company. (Trinidad Express) The Tourism Development Company (TDC) has ceased operations.

Cevons clearing city garbage WPA STATEMENT ON THE UNRESOLVED ISSUE OF GARBAGE COLLECTION IN THE GEORGETOWN MUNICIPALITY The WPA is deeply concerned that the Georgetown City Council's inability to honour its financial obligations to Cevons Waste Management and Puran Brothers has the potential of endangering the health and lives of citizens.
British High Commissioner to Guyana Greg  Quinn  yesterday said that it was hoped that more would have been done to push the constitutional reform process forward.

A West Coast Berbice man died after he reportedly set his one-storey house ablaze sometime around 11.20 am yesterday.