Twenty-year-old Kevon Trotman, who was involved in a vehicular accident last Friday on the La Grange Public Road in the vicinity of the Two Brothers Gas Station, succumbed to his injuries in the Intensive Care Unit of the Georgetown Public Hospital on Wednesday afternoon.
Trotman, of Lot 25 Genieve, Canal Number One Polder, West Bank Demerara and who was employed as a lab technician at the Rice Laboratory at Eccles, East Bank Demerara, was heading home on his motorcycle after visiting his girlfriend when he was struck by a speeding car. He was flung from the motorcycle and he landed on his head. He was rushed to the West Demerara Hospital and later transferred to the Georgetown Public Hospital because of the severity of his injuries. Trotman had a blood clot in his brain.
"Someone from the hospital called us and told us to come down. When we went there we were told that he passed away at 2 pm," Trotman's visibly distraught mother, Simone, said yesterday.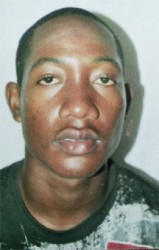 The youngest of three siblings, the deceased man was described as loving and ambitious. "He was very loving. Anything you asked him to do he was always willing to help," the woman said.
She added that his older sister is taking the death extremely hard as she and her younger brother were very close. "They were really close. She is expecting her baby very soon and all he would talk about was how he was going to spoil his niece—this would have been his first niece.
Everyone is really sad but I just want to remember the good things about him," his mother added.
Comments

UN experts condemn racist violence in U.S., urge investigations GENEVA, (Reuters) – United Nations human rights experts called on the United States today to combat rising racist violence and xenophobia and to prosecute perpetrators of hate crimes.

The twin-engine Beechcraft seized by authorities on an improvised airstrip on Sunday in the North Rupununi, Region Nine area, was yesterday confirmed as bearing a registration number belonging to an investment company in Brazil.

ExxonMobil yesterday signed a deal with Guyana Shore Base Inc (GYSBI) for an onshore support facility at Houston on the East Bank of Demerara.
While students who sat Caribbean Examination Council (CXC) exams in May and June of this year will be able to access their results online on Friday, the Ministry of Education has already announced that Guyana has recorded a 7% increase in passes at the Caribbean Advanced Proficiency Examinations (CAPE).

A post-mortem examination is expected to be done today to determine the cause of death of a nine-month-old baby, who died on Monday after she was left in a car.