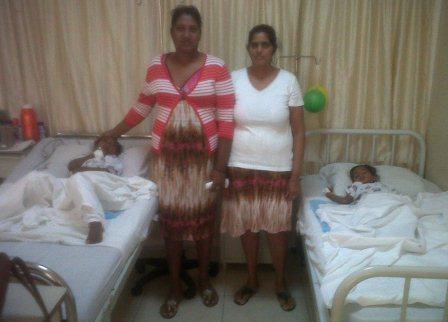 Number 65 Village sisters Tiana and Gayona Bissoondyal, each born with a hole in the heart and a slim chance of getting overseas for life-saving surgery, are the first successes of paediatric heart surgeries now being provided at the Dr. Balwant Singh Hospital.
With the hospital's introduction of its paediatric heart services, children with heart ailments, like Tiana 3, and Gayona, 5, may no longer have to travel out of Guyana for heart surgery.
"Dr. Balwant Singh's Hospital is now well equipped with state-of-the-art, technologically-advanced equipment to conduct cardiac surgery, including open heart surgery," hospital Director Dr. Madhu Singh told reporters today, while describing the Bissondyals' surgeries as two successes.
"…Children in Guyana normally have to travel as far as India and government provides $1M for those surgeries. So, that is the amount we will charge and they have the same service with their parents and family by their sides," Singh added.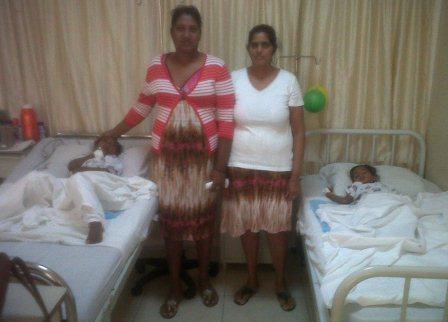 She also noted that the hospital is currently offering free heart screening for children from birth up to age 12. She said that it is critical that parents know the heart status of their children as age brings increased complications and ailments, which most times lead to fatal outcomes.
Moushimi Bissoondyal was convinced that her daughters, who were on a waiting list, would never be able to undergo surgery.
She was yesterday overwhelmed with joy after recalling the "trials" she faced trying to arrange surgery overseas for the girls. "All two of them born with the hole in their heart and I never find out till the first one was one and the second one was going on two… the doctors tell me they would have to go to India to have surgery or they would not make it," Bissoondyal said.
"I cried many days because I live Number 65 (Village) Corentyne and it wasn't easy bringing them to town every other week for something…. I run around. When I tell you I run around, I run around trying to see how they would get the surgery and over one year I went on public waiting list and I tell myself they would never do the surgery," she added.
The mother explained that it was a friend from Berbice, after having a bypass surgery done at Balwant Singh's Hospital, who told her she had nothing to lose if she went to the hospital and explained her circumstances. About three weeks ago, when all seemed lost and she felt that time was against her, she and the two girls visited the hospital.
"I am very poor and my husband is a labourer, so whey we would find money from for one much less two surgery? …I decide to come and they told me we will help and today I am so happy, so not stressing out and so no more," Bissoondyal added.
Meanwhile, Singh told reporters that after Bissoondyal's visit, the hospital decided to perform the surgeries without awaiting government's approval of funds for the two children because the longer their condition goes without action, the more complicated treatment becomes.
Singh explained that Patent Ductus Arteriosus (PDA), which was the diagnosis for both girls, is caused when there is abnormal blood flow between two of the major arteries connected to the heart. These arteries, the aorta and the pulmonary artery, should close by themselves after birth but in some cases they do not. With surgical intervention the gap is manually bridged and this should be done very early in the child's life.
"Their growth is stunted and they don't develop as they should… as time pass[es], they can become inoperable," Surgeon Dr. Ratan Das explained.
Das will head the team of paediatric cardiac surgeons at the hospital. He currently is the Senior Consultant and Clinical Director of Cardiac Surgery at the Medica Superspecialty Hospital in Kolkata, India.
He said he brings to Guyana a wealth of knowledge in the field as he has performed over 350 open heart surgeries per year, of which 40% are children.
Singh informed that for the eight months since the opening of the hospital's state-of-the-art Cardiac Cath Lab, 150 coronary angiograms and more than 30 angioplasties have been conducted. Singh also lamented the increase of heart disease cases in Guyana and said that the hospital also has a sensitisation programme to edify patients on the importance of early healthy lifestyle changes.
Comments

In what will be seen as a major development, President David Granger, along with members of  Cabinet, today, met with the President and members of the Guyana Agricultural and General Workers' Union (GAWU) and the National Association of Agricultural, Commercial and Industrial Employees (NAACIE) at the Ministry of the Presidency to discuss the future of the sugar industry.

Finance Minister Winston Jordan today moved in Parliament to amend the government's request for supplementary provisions which will allow some of the sugar workers made redundant to get their full severance at the end of January.

The Working People's Alliance (WPA) today announced its support for the government's restructuring of the sugar industry.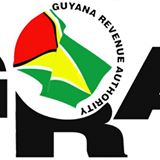 The Guyana Revenue Authority (GRA) today warned about the impersonation of licenced customs brokers.

(Reuters) – England's top order fired in unison to give them a four-wicket win in the second one-day international against Australia on Friday as Aaron Finch's second straight hundred for the hosts could not prevent them falling 2-0 behind in the series.