A man was yesterday shot to the head by police ranks after he allegedly attacked them with a cutlass.
According to a release from the Georgetown Public Hospital Corporation, a 45-year-old man was rushed to the hospital at around 21:31 hrs having sustained a gunshot wound to the head.
The man, later identified as Kampta Persaud of Bel Air Village, was unresponsive when he was taken to the hospital, and was gasping for breath. He died five minutes after being brought in.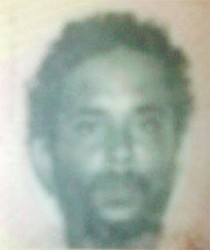 According to sources, the confrontation between Persaud and police ranks stemmed from an incident which occurred earlier in the evening. Persaud had reportedly turned up at the Rubis Gas Station, situated just four houses from his home, earlier in the evening where he began exhibiting threatening behaviour and was armed with a cutlass.
Sources say that the man subsequently left the gas station, after which one of the persons who felt threatened, reported the matter to the police.
When police ranks turned up and confronted the man in his home, Persaud told them "I is a serious man," and warned them to leave before he "do all of yall something." The police however, continued to insist that he accompany them to the station to be questioned.  After his warnings continuously fell on deaf ears, it is alleged, Persaud attacked the officers, dealing two of them at least one chop each.
A police official says that ranks then discharged "warning" rounds at Persaud, which struck him in his head.
Comments

Several candidates recorded outstanding performances at this year's Caribbean Advanced Proficiency Examination (CAPE).

 Geometric improvements will be carried out on the East Coast Railway Embankment Road come September for smoother traffic flow.
Swift action by the Law Enforcement and Investigation Division (LEID) of the Guyana Revenue Authority (GRA) aided in the removal of a large quantity of seized foreign chicken from two separate cold storage facilities in the Berbice area after it was discovered that the commodities were unlawfully being disposed of, the GRA said today.

Farha Faiz, a lawyer, speaks with the media after a verdict for the controversial Muslim quick divorce law outside the Supreme Court in New Delhi, India August 22, 2017.  

Defeat Tallawahs by 37 runs Chris Gayle, playing in his 50th CPL match, produced his 63rd T20 fifty as St Kitts & Nevis Patriots cruised past Jamaica Tallawahs by 37 runs to guarantee a place in the playoffs for the first time in their three-year history.