Principal of UWI's Cave Hill Campus Professor Sir Hilary Beckles has been elected as Chairperson of the Caricom Regional Reparations Commission, which is to develop and implement a regional strategy to pursue reparations for native genocide and slavery.
Sir Hilary was elected at the First Regional Conference on Reparations held last month at Kingstown, in St Vincent and the Grenadines, according to a press release from the Caricom Secretariat.
The three-day conference, which started on September 15, followed the decision adopted at the Caricom Heads of Government meeting in July to pursue reparations. Caricom Heads also requested each member state to set up its own National Reparations Committee, with the Chair of each committee also sitting on the regional commission.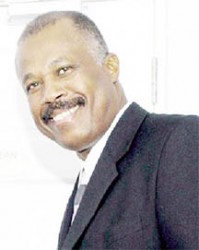 The Secretariat said Sir Hilary would be supported by three vice chairpersons: Jomo Thomas, St Vincent and the Grenadines (responsible for inter-governmental relations); Dr Verene Shepherd, Jamaica (research) and Ahmad Zunder, Suriname (mobilisation).
It noted that the Commission was constituted to achieve several key objectives "to establish the moral, ethical and legal case for the payment of reparations by the governments of all the former colonial powers and the relevant institutions in those countries, to the nations and people of the Caribbean Community for the crimes against humanity of native genocide, the trans-Atlantic slave trade and a racialised system of chattel slavery." It will also make recommendations for coordinated Caricom action by the Prime Ministerial Sub-Committee on Reparations; to coordinate and support the work of the National Reparations Commissions and Task Forces and encourage the development of commissions in those countries that have not yet established national bodies.
According to the Secretariat, the Commis-sion will co-ordinate, develop and implement a regional strategy to pursue reparations, such as undertaking relevant historical research at the national, regional and international levels; directing legal research to inform case preparation and litigation strategies; organising national and regional public education campaigns; coordinating and or conducting national and regional public consultations on reparations and developing and recommending diplomatic strategies to advance the case for reparations in multilateral institutions such as the United Nations, African Union, CELAC and with other supportive governments.
It will also develop and recommend decisive political action at the national and regional levels through parliamentary debates and resolutions and national, regional and international popular mobilisation; conduct consultations to develop proposals on appropriate forms of redress through reparative programmes and projects; manage and or undertake the preparation of a detailed brief on the cost of the damages and current manifestations of such damage on indigenous people and their descendants and on enslaved Africans and their descendants, in the following and other relevant areas: Economic (including land deprivation); Social Cultural and Psychological; Spiritual and Religious; Demographic; Medical; and Educational.
In addition, it will assume responsibility for the preparation and presentation of the legal case for reparations and highlight the special case of reparations for Haiti.
The Commission will also serve as a quick response mechanism and develop a pro-active media campaign to raise public awareness and canvas support. The Conference also agreed to host a second follow-up meeting within a reasonable time-frame, to ensure that the momentum started in St Vincent and the Grenadines could be accelerated.
Representatives of 12 Caricom countries participated in the conference: Antigua and Barbuda, Barbados, Belize, Dominica, Grenada, Guyana, Jamaica, St Kitts and Nevis, St Lucia, St Vincent and the Grenadines, Suriname and Trinidad and Tobago. There were also representatives from Guadeloupe, Martinique, the US Virgin Islands, the UK, Canada, the United States and the Netherlands.
Comments

(BBC) Bollywood superstar Sridevi has died after a cardiac arrest, her family says.
President David Granger will not be attending the Twenty-Ninth Inter-sessional Meeting of The Conference of Heads of Government of the Caribbean Community (CARICOM) in Haiti beginning on Monday.

Mashramani celebrations ground to halt for several families yesterday afternoon, when approximately 30 persons lost their homes after a fire of unknown origin ripped through three Victoria Road, Plaisance properties, including an apartment building.

Minister of State Joseph Harmon says that the US$3 million settlement offer made by Hong Kong Golden Telecom Limited (HKGT) on the outstanding balance for its purchase of government shares in the Guyana Telephone and Telegraph Company (GTT) is being actively considered, but the government's goal is to recover the entire US$5 million that is owed.

Opposition Leader Bharrat Jagdeo on Thursday criticised government and Minister of Finance Winston Jordan on the heels of the announced plan to borrow cash from local banks to reopen two sugar estates and to fund critical current and capital Guyana Sugar Corporation (GuySuCo) programmes.