A Guyana Times pressman died on Sunday night after his motorcycle collided with a car on the Agricola Public Road, East Bank Demerara.
Stefon Bascom, 23, of Lot 6 West Ruimveldt Housing Scheme, Georgetown, succumbed to his injuries around 9:30pm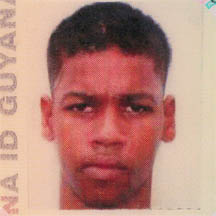 at the Georgetown Public Hospital. The driver of the car was taken into custody by police.
The father of the young Bascom said that his son had left his home earlier that evening to buy Chinese food and never returned that night. "The next morning when I checked his apartment he wasn't there," Charles Bascom related.
He said that at the moment worry overwhelmed him and he asked his friend if he went to work. The report he received was more troublesome. "He didn't went to work that night so I thought that maybe the police hold him up," he added.
However, when Bascom arrived at the West Ruimveldt Police Station, he found the wreckage of his son's motorcycle in the compound. He recalled a policeman telling him to sit down because there was something important that he needed to know. He did not expect that his son was dead and was shocked when the police said that his son involved in an accident the night before and had succumbed.
"I went to the hospital and I see him and he was bandaged up all over. All this happen and we didn't know till the next morning," he cried, while walking away to compose himself. "When I don't see my children I get worried and I ask where they gone or where they are… but I didn't know where he was," he added, while noting that he was very close to his son and the news had thrown his family into grief.
Bascom said that he was told that the driver of the car didn't see the motorcycle until the impact of the collision.  The young man's mother was home yesterday surrounded by her other children and was too grief-stricken to speak to anyone. "It was hard telling her," Bascom said, noting that the woman was still in shock and refused to believe that her son was dead.  An autopsy is scheduled to be performed on Bascom's remains today.
In Monday's edition of the Guyana Times, the management and staff had extended their sympathy to Bascom's family.
Stefon Bascom is survived by his parents and five siblings.
Comments

Defeat Tallawahs by 37 runs Chris Gayle, playing in his 50th CPL match, produced his 63rd T20 fifty as St Kitts & Nevis Patriots cruised past Jamaica Tallawahs by 37 runs to guarantee a place in the playoffs for the first time in their three-year history.

The Guyana Football Federation (GFF) has officially selected the Boys and Girls teams which will represent the nation at the Inter-Guiana Games (IGG) Goodwill Series scheduled for Suriname from the August 25th– 27th.

The Commission of Inquiry (CoI) into African ancestral land ownership began hearings yesterday with a significant portion of the first day's proceedings being dedicated to questions pertaining to the allocation of lots in the controversial 'Pradoville 2' Housing Scheme.

For another year, the opening of the National Toshaos Council (NTC) Conference was dominated by concerns about land rights, with Chairman Joel Fredericks yesterday calling out the APNU+AFC government for making decisions that affect land ownership without first seeking the Free, Prior and Informed Consent (FPIC) of affected Indigenous groups.