A Tain Settlement man was found dead early yesterday morning at Port Mourant, Corentyne and it is believed that he was beaten to death.
Residents discovered the body of Nandkumar Poonwassie, 34, called "Vishal" and "Darshanie," of Lot 132 Tain Settlement, Corentyne sometime between 5:30am and 6:30am along Day Clean Street.
Poonwassie, who had an injury to the centre of his head, was found lying on the ground next to an old iron pipe. Police have recovered a piece of wood with blood stains that was next to the deceased and it has been lodged as evidence.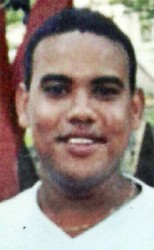 His bicycle, cellular phone and a small sum of cash were reported missing.
Poonwassie was last seen alive on Monday evening and at his home yesterday family members were still trying to figure out what happened to him.
Kiran Baldeo, a sister-in-law of the deceased, told Stabroek News that  she saw Poonwassie's body at the mortuary and a gash on his head was the only visible wound.
According to Baldeo, on Monday morning Poonwassie had left his home to go and help some overseas visitors at Ankerville. She explained that he earned an income from assisting such visitors.
She said that when family members visited the home of the overseas visitors, they were told that Poonwassie had left around 7:30pm on Monday to go home but never reached home.  She added when they spoke to the visitors, the family was told that Poonwassie was asked to spend the night but he was determined to return home. The family said it was not customary for Poonwassie to be out later than 8:30pm.
Baldeo further stated that a security guard attached to Spready's Snackette and Bakery said he had seen Poonwassie in the area earlier in the night. She opined that he probably went to visit one of his nieces who works at the business.
However, it was a family friend, who gave her name as "Daro" who woke up yesterday morning and saw Day Clean Street unusually busy.  She soon saw the motionless body in the street and upon enquiring she was told it was "Darshanie." She later contacted his relatives.
Poonwassie was described by family members as a friendly, free-spirited person who would make dull moments bright. They were unaware if he had any conflicts with anyone.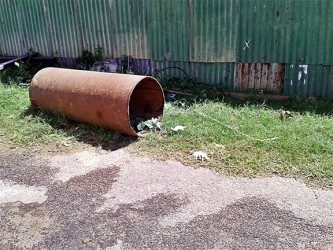 No one was taken into custody up to press time last evening and police said investigations were ongoing.
In 2009, Poonwassie's aunt was found murdered at Tain Village. Chitra 'Chandra' Poonwassie, 49, was found dead in her Tain home on September 28, 2009. The woman's body was discovered in her bed in a pool of blood with a wound under her chin and her tongue protruding. It appeared as though she had been raped and then murdered sometime early that morning. She had died from manual strangulation. (David Papannah)
Comments

WASHINGTON,  (Reuters) – A former senior official in Donald Trump's 2016 presidential campaign, Rick Gates, pleaded guilty today to conspiracy against the United States and lying to investigators, and is cooperating with a federal probe into Russia's role in the election.

(Trinidad Guardian)  "Dwight, I forgive you." So stated reigning Chutney Soca Monarch Neval Chatelal in an open letter to former T&T and Manchester United striker Dwight Yorke yesterday, following the repayment of a $250,000 loan.

The controversial Production Sharing Agreement (PSA) signed between the government and ExxonMobil's local subsidiary and partners is final and will not be subject to any changes, Minister of State Joseph Harmon said yesterday.

General Manager Holly Greaves yesterday said the National Insurance Scheme (NIS) is re-examining its investment in the Berbice Bridge after dismal returns over the past few years.