Former telecoms workers picket OP over pensions
'Unfortunately this is where we are today at a protest with a hope that they would hear us. We have before tried to engage the former President Jagdeo, President Ramotar, Mr. Brassington but we were unsuccessful time and time again. Had it been a GuySuCo issue, it would have been addressed and completed but we don't look like GuySuCo. We don't look like GuySuCo, so they don't have respect for us. The government doesn't care because we don't look like them' -Lennox Skeete, former Maintenance Manager at GT&T
Scores of former telecoms workers demonstrated in front of the Office of the President yesterday in a bid to get their rightful pensions and benefits.
"It's a rape of workers' rights… more than two dozen pensioners have already died waiting for this to be resolved," one of the demonstrators contended.
The former Guyana Telecommunica-tions Corporation (GTC) and Guyana Telephone &Telegraph Company (GT&T) workers were demonstrating for an increase in their pension and also for pension and benefits promised to them since 1990 by the government through the Finance Ministry.
"GTC pensioners want their rightful pension and benefits now not after we die," "President Ramotar please address our pension issues now!" and "Mr. President Ramotar your government should reflect/respect the will of the working class. Pay us now!" were some of the statements scribbled on cardboards held by the demonstrators, who pinned signs marked 'peaceful protest' on their chest.
The GTC/GT&T pensioners were initially promised by the Privatisation Unit, now the National Industrial and Commercial Investment Limited (NICIL), that they would be paid their correct pensions but the payouts have yet to be made after twenty-three years.
According to demonstrators, the pension plan for the GTC/GT&T workers should be calculated in keeping with the Pension Act formula.
"We are not having an issue with the pension from GT&T; the issue is with the pension from GTC. We are being disregarded regardless of our years of service, our position and our salaries because we are receiving the minimum pension of $18,833 as everyone else," Douglas (only name given) told Stabroek News. "I'm paving the way for those who have not reach pension age as yet… I'm fighting for that because we are being treated with disgust," she added.
In March, NICIL had approved the payments of gratuity due from the GTC calculation as at December, 1990. Some payments were made while other pensioners are still to receive their payments.
However, pensioners said that their pensions and benefits did not rise with the annual pension increases over the years. "The money remained fixed," another protestor lamented. "Our contention is if we were paid in 1990 or 1991 to today everyone would have been getting their rightful pension. But because we had to wait until we reached the pensionable age that's the reason why everybody is getting one pension," the protestor charged, suggesting that government look into the issue and grant them their monies back.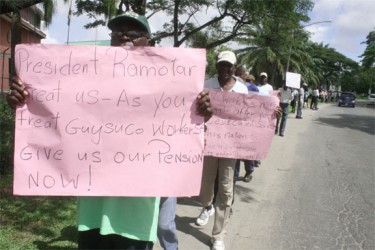 "I was with GTC for over fourteen years and I had to wait an additional fourteen years before I could receive any pension," she argued.
Another protestor, Stanton, said that he was sickened by the way pensioners in Guyana are being treated. "Imagine we worked and we contributed and we paid taxes and all these things when we were young and now we have retired and they aren't giving us our money," he said. "We were promised that when we retire we would get our full pension from the government. It's over 20 odd years and we haven't received anything. We are writing them, sending messages," he said. "Our salaries were always higher than the regular worker, so we deserve more but we are receiving the meagre pension…the ex-president getting $3 million and we getting $18,000 a month. Do you see the disparity? The government is not doing anything—in fact we are being treated ridiculously."
Gloria Paris stood holding up a placard in the place of her 81-year old mother. "My mother is 81-years-old and she worked in that place for years since I was a little girl and now she isn't even getting her rightful pension," Paris said. "I'm here to support them because these people work for GTC and they deserve more money. The amount of money they are receiving is disgusting."
She observed that in other countries pensioners are treated with more respect.
"I don't think they are working for our benefits and this is for President Donald Ramotar. He really needs to step up and treat our pensioners better because they worked hard for this government," Paris added.
'This is where we are'
In 1990 the GTC was transferred to GT&T and the workers were promised that the transfer would not affect their employment and their service would be treated as unbroken.
Lennox Skeete, a former Maintenance Manager at GT&T, said that since the company was transferred the former workers were fighting to receive their rightful pension. "We have tried unsuccessfully over the past 15 years to gain the government's attention to address this issue. Unfortunately this is where we are today at a protest with a hope that they would hear us. We have before tried to engage the former President [Bharrat] Jagdeo, President Ramotar, [Head of NICIL] Mr. [Winston] Brassington but we were unsuccessful time and time again," he said.
"Had it been a GuySuCo issue, it would have been addressed and completed but we don't look like GuySuCo. We don't look like GuySuCo, so they don't have respect for us. The government doesn't care because we don't look like them," he charged.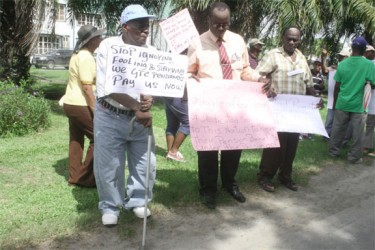 "I would like the government to just listen to our senior citizens… people who had given so much years of service for the government. It is unfortunate that they are being treated so shabbily but we are hoping that the government would revisit their conscience and deal with our issue."
One man said that he had worked at the GTC as an engineer and his pension was calculated at $1400 per month in 1990. "They said that I cannot claim the money until I reached fifty-five and that my pension was two-third of my salary. I was working for $165,000 per month but when I went to start collect my money at the Ministry of Finance they said that I could only receive $14,000 at that time," Lloyd Hopkinson said.
He said that it was atrocious that their pension is being regulated at a fixed pension scale when they dedicated years of service. "People are asking us how can we let it go on for so long but we never came further because we didn't want to be confrontational. We didn't want to look like we are opposing the government but right now over two dozen pensioners have already died waiting for this to be resolved," he stated, adding that three quarters of the pensioners present at the protest were ill. "It is very ridiculous. The government act like if they don't care and the truth is pensioners overall are being treated very poorly, regardless of this issue."