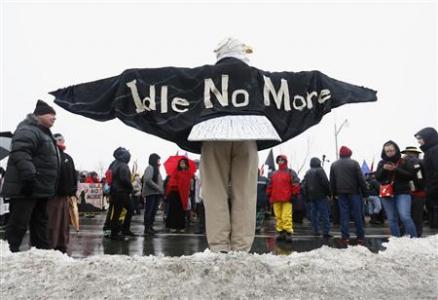 OTTAWA,  (Reuters) – Aboriginal protesters blockaded the main entrance to Prime Minister Stephen Harper's office yesterday and some native groups threatened economic disruption as part of a campaign to force Ottawa to address native grievances.
Chiefs say a growing aboriginal protest known as "Idle No More" is prepared to bring the economy to its knees unless the federal government tackles the poor living conditions and high jobless rates facing many of Canada's 1.2 million natives.
Harper opened a meeting with native chiefs yesterday to discuss their demands. Outside the building in central Ottawa, hundreds of chanting protesters braved freezing rain and blocked the main entrance.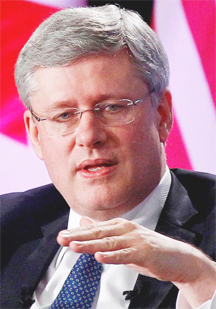 Native groups complain that successive Canadian governments have ignored treaties aboriginals signed with British settlers and explorers hundreds of years ago, treaties they say granted them significant rights over their territory.
"Harper, if you want our lands, our native land, meaning everyone of us, over my dead body, Harper, you're going to do this," said Raymond Robinson, a Cree from Manitoba.
"You'll have to come through me first. You'll have to bury me first before you get them," he shouted toward the prime minister's office from the steps outside Parliament.
The aboriginal movement is deeply split over tactics and not all the chiefs invited to the meeting turned up. Some leaders wanted Governor-General David Johnston, the official representative of Queen Elizabeth, Canada's head of state, to take part.
Johnston has already said he will not attend, saying it is not his place to get involved in policy discussions.
Banged on the door
Gordon Peters, grand chief of the association of Iroquois and Allied Nations in Ontario, threatened to "block all the corridors of this province" next Wednesday unless natives' demands were met. Ontario is Canada's most populous province and has rich natural resources.
Peters told reporters that investors in Canada should know their money was not safe.
"Canada cannot give certainty to their investors any longer. That certainty for investors can only come from us," he said.
Manitoba Grand Chief Derek Nepinak, who said on Thursday that aboriginal activists have the power to bring the Canadian economy to its knees, banged on the door at the main entrance to Harper's offices on Friday.
"We're asking him to come out here and explain why he won't speak to the people," said Nepinak, who boycotted the meeting.
As he spoke, demonstrators in traditional feathered headgear shouted, waved burning tapers, banged drums and brandished banners with slogans such as "Treaty rights not greedy whites" and "The natives are restless".
Nepinak and other Manitoba chiefs are also demanding that Ottawa rescind parts of two recent budget acts that they say reduce environmental protection for lakes and rivers, and make it easier to sell lands on the reserves where many natives live.
Ottawa spends around C$11 billion ($11.1 billion) a year on its aboriginal population, yet living conditions for many are poor, and some reserves have high rates of poverty, addiction, joblessness and suicide.
Around the Web