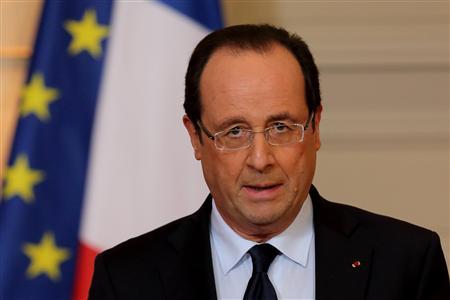 PARIS, (Reuters) – France will pursue operations in Mali to prepare a subsequent African-led intervention to oust Islamist rebels and will step up anti-terrorist security measures on its own territory, President Francois Hollande said on Saturday.
An army officer at the headquarters of Mali's former military junta in Bamako said "over 100" rebels had been killed, while a shopkeeper in Konna said he had counted 148 bodies, among them several dozen government soldiers.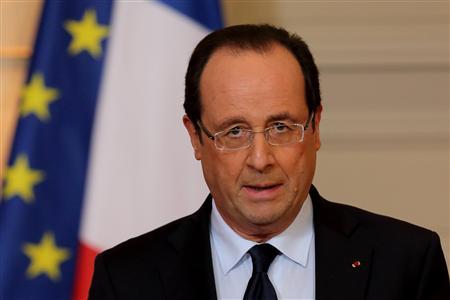 "We have driven them out, we are effectively in Konna," Malian Defence Ministry spokesman Lt. Col. Diaran Kone told Reuters. "We don't know if they have planted mines or other traps, so we are moving with caution. There were many deaths on both sides."
As French aircraft pounded rebel fighters for a second day, Hollande said he had given instructions that the several hundred French troops sent to Mali must keep their actions strictly limited to supporting a West African ECOWAS operation.
"We have already held back the progress of our adversaries and inflicted heavy losses on them. But our mission is not over yet," Hollande said, a day after French forces launched air strikes and reinforced the capital Bamako to pre-empt a feared rebel advance towards the city.
One French pilot was killed in Friday's air strikes, in a blow to the start of a campaign which represents Hollande's biggest foreign policy test since his May election.
France also lost a commando and a secret agent held hostage since 2009 in a raid in Somalia on Saturday, an operation Hollande said had been planned several days ago. His defence minister said earlier that the operations were unrelated.
"This operation confirms France's determination not to give in to the blackmail of terrorists," Hollande said of the Somalia incident. "In the days ahead, we will pursue our intervention in Mali," he told a news conference.
Concerned about reprisals on French soil, Hollande said he had asked his prime minister to reinforce security in public buildings and on public transport as quickly as possible.
Comments

PERRIS, Calif., (Reuters) – Police said yesterday they were still seeking answers after finding 13 siblings starving in their parents' squalid Southern California home, some of them chained to beds under "horrific" conditions in an otherwise ordinary suburb.

WASHINGTON,  (Reuters) – President Donald Trump's former chief strategist Steve Bannon declined on Tuesday to comply with a subpoena ordering him to answer questions from a House intelligence panel about his time at the White House as part of its investigation into allegations of Russian interference in the U.S.
SAN SALVADOR, (Reuters) – El Salvador is discussing a deal with Qatar under which Salvadoran migrants facing the loss of their right to stay in the United States could live and work temporarily in the Middle Eastern country, the government of the Central American nation said on Tuesday.
VANCOUVER, (Reuters) – A 20-nation meeting on North Korea agreed yesterday to consider imposing unilateral sanctions on Pyongyang that go beyond those required by U.N.

LONDON,  (Reuters) – Carillion collapsed yesterday when its banks pulled the plug, triggering Britain's biggest corporate failure in a decade and forcing the government to step in to guarantee public services from school meals to roadworks.