(Reuters) – Roughly 18,000 defrauded investors in Allen Stanford's US$7 billion Ponzi scheme would receive an initial payment of US$55 million for their claims, according to a plan submitted by a court appointed receiver on Friday.
Stanford was sentenced last year to 110 years in prison for bilking investors with fraudulent certificates of deposit issued by Stanford International Bank, his bank in Antigua.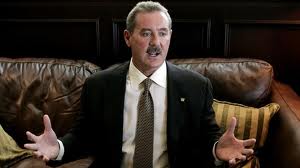 Following a lawsuit by the U.S. Securities and Exchange Commission, a Texas-based federal judge appointed a receiver to settle the Stamford estate and disburse any assets to claimants.
The plan filed in court on Friday proposes that US$55 million be disbursed to investors. "Many of these people entrusted their entire life savings to the scheme and have received a pittance or nothing at all from it," the receiver wrote.
A victim's advocate group immediately criticized the plan, saying the fees involved in collecting the money far outweighed that payout.
"To say the recovery of one penny on the dollar is disappointing is a dramatic overstatement," Angela Shaw, the director the Stanford Victims Coalition, said in a statement.
Attorneys for the receiver, Ralph Janvey, could not immediately be reached for comment.
Separately, the SEC had requested that an industry backed fund, the Securities Investor Protection Corp, start a court proceeding that could help further compensate victims.
But a U.S. judge turned down the SEC's request, saying the agency had not met its legal burden to show why SIPC should be compelled to act. SIPC, which has handled high-profile liquidations such as Bernard Madoff's Ponzi scheme, contended that Stanford's offshore bank fell outside the scope of its authority.
The SEC has appealed.
The case in U.S. District Court, Northern District of Texas is Securities and Exchange Commission vs. Stanford International Bank Ltd et al, 09-cv-0298.
Around the Web