GENEVA,  (Reuters) – UN human rights chief Navi Pillay called today for an international investigation into what she said were decades of serious violations in North Korea.
She voiced regret that there had been no improvement since Kim Jong-un took power a year ago.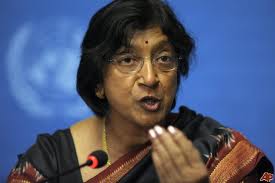 Pillay, in a rare statement on North Korea, said: "Because of the enduring gravity of the situation, I believe an in-depth inquiry into one of the worst – but least understood and reported – human rights situations in the world is not only fully justified, but long overdue."
Pillay regretted that international concerns over North Korea's controversial nuclear programme and rocket launches were overshadowing "the deplorable human rights situation in the DPRK (Democratic People's Republic of Korea)".
The reclusive country's network of political prison camps, believed to contain 200,000 people or more, were marked by rampant violations, including rapes, torture, executions and slave labour, she said.
"There were some initial hopes that the advent of a new leader might bring about some positive change in the human rights situation in DPRK," she said. "But a year after Kim Jong Un became the country's new supreme leader, we see almost no sign of improvement."
Comments

PUERTO MALDONADO, Peru, (Reuters) – Pope Francis issued a ringing defense of the people and the environment of the Amazon yesteday, saying big business and "consumerist greed" could not be allowed to destroy a natural habitat vital for the entire planet.
BOGOTA, (Reuters) – The number of Venezuelans living in Colombia jumped 62 percent in the last half of 2017 to more than 550,000, its migration authority said yesterday, as Venezuela's economic devastation hastens migration to the neighbouring country.
NEW YORK, (Reuters) – A former member of Honduran President Juan Orlando Hernandez's cabinet was sentenced by a New York federal judge to nearly 2-1/2 years in prison yesterday, after pleading guilty to attempting to launder drug money from the Central American country.
NEW YORK, (Reuters) – A woman yesterday publicly accused Oscar-winning actor and producer Michael Douglas of sexual misconduct, saying he had repeatedly harassed her verbally and fondled himself in front of her when she worked for him in the 1980s.
DAR ES SALAAM,  (Reuters) – Tanzanian President John Magufuli yesterday put a temporary ban on the registration of foreign ships in the country and ordered over 400 vessels to be investigated for allegations of involvement in criminal activity.