GENEVA,  (Reuters) – UN human rights chief Navi Pillay called today for an international investigation into what she said were decades of serious violations in North Korea.
She voiced regret that there had been no improvement since Kim Jong-un took power a year ago.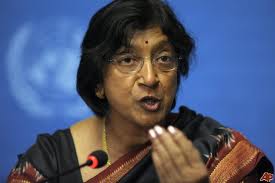 Pillay, in a rare statement on North Korea, said: "Because of the enduring gravity of the situation, I believe an in-depth inquiry into one of the worst – but least understood and reported – human rights situations in the world is not only fully justified, but long overdue."
Pillay regretted that international concerns over North Korea's controversial nuclear programme and rocket launches were overshadowing "the deplorable human rights situation in the DPRK (Democratic People's Republic of Korea)".
The reclusive country's network of political prison camps, believed to contain 200,000 people or more, were marked by rampant violations, including rapes, torture, executions and slave labour, she said.
"There were some initial hopes that the advent of a new leader might bring about some positive change in the human rights situation in DPRK," she said. "But a year after Kim Jong Un became the country's new supreme leader, we see almost no sign of improvement."
Around the Web