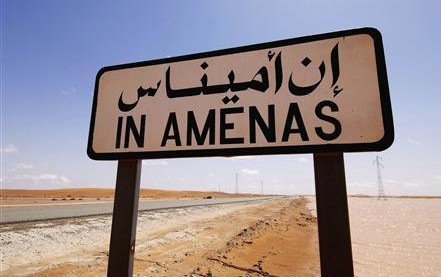 ALGIERS,  (Reuters) – Islamist militants attacked a gas field in Algeria today, claiming to have kidnapped up to 41 foreigners including seven Americans in a dawn raid in retaliation for France's intervention in Mali, according to regional media reports.
The raiders were also reported to have killed three people, including a Briton and a French national.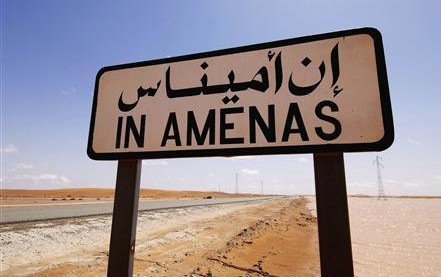 An al Qaeda affiliated group said the raid had been carried out because of Algeria's decision to allow France to use its air space for attacks against Islamists in Mali, where French forces have been in action against al Qaeda-linked militants since last week.
The attack in southern Algeria also raised fears that the French action in Mali could prompt further Islamist revenge attacks on Western targets in Africa, where al Qaeda in the Islamic Maghreb (AQIM) operates across borders in the Sahara desert, and in Europe.
AQIM said it had carried out today's raid on the In Amenas gas facility in Algeria, Mauritania's ANI news agency reported.
The Algerian interior ministry said: "A terrorist group, heavily armed and using three vehicles, launched an attack this Wednesday at 5 a.m. against a Sonatrach base in Tigantourine, near In Amenas, about 100 km (60 miles) from the Algerian and Libyan border."
The gas field is operated by a joint venture including BP , Norwegian oil firm Statoil and Algerian state company Sonatrach.
ARMED MEN
BP said armed men were still occupying facilities at the gas field.
"The site was attacked and occupied by a group of unidentified armed people at about 0500 UK time. Contact with the site is extremely difficult, but we understand that armed individuals are still occupying the In Amenas operations site," it said.
Algeria's official APS news agency said a Briton and an Algerian security guard had been killed and seven people were injured. A French national was also killed in the attack, a local source said.
Also among those reported kidnapped by various sources were five Japanese nationals working for the Japanese engineering firm JGC Corp, a French national, an Irishman, a Norwegian and a number of Britons.
A member of an Islamist group styling itself the "Blood Battalion" was quoted by Mauritanian media as saying that five of the hostages were being held at the gas facility and 36 were in a housing area. APS said the Islamist raiders had freed Algerians working at the gas facility.
"The operation was in response to the blatant interference by Algeria and the opening of its air space to French aircraft to bomb northern Mali," the Islamist spokesman told Mauritania's ANI news agency.
ANI, which has regular direct contact with Islamists, said that fighters under the command of Mokhtar Belmokhtar were holding the foreigners.
Belmokhtar for years commanded al Qaeda fighters in the Sahara before setting up his own armed Islamist group late last year after an apparent fallout with other militant leaders.
The Algerian army was in the area of the gas facility, according to French and Algerian sources.
SECURITY IMPLICATIONS
The attack was the first time in years that Islamist militants are known to have launched an attack on an Algerian energy facility.
The attack could have implications for security across the whole of Algeria's energy sector, which supplies about a quarter of Europe's natural gas imports and exports millions of barrels of crude oil each year.
Such an attack would require a large and heavily-armed insurgent force with a degree of freedom to move around — all elements that al Qaeda has not previously had.
However, the conflict in neighbouring Libya in 2011 changed the balance of force. Security experts say al Qaeda was able to obtain arms, including heavy weapons, from the looted arsenals of former leader Muammar Gaddafi.
Statoil, a minority shareholder in the gas venture, said it had 17 employees at the plant and four of them had been evacuated. The company declined to comment on the other 13.
The five Japanese work for the engineering firm JGC Corporation, Jiji news agency reported, quoting company officials. JGC has a deal with Sonatrach-BP-Statoil Association for work in gas production at In Amenas.
A reporter for Japan's NHK television managed to call a JGC worker in Algeria.
The worker said he got a phone call from a colleague at the gas field. "It was around 6 a.m. this morning. He said that he had been hearing gunshots for about 20 minutes. I wasn't able to get through to him since."
French troops launched their first ground operation against Islamist rebels in Mali on Wednesday in an action to dislodge from a strategic town al Qaeda-linked fighters who have resisted six days of air strikes.
Comments

WASHINGTON,  (Reuters) – President Donald Trump yesterday aligned himself solidly with conservative Republicans on immigration, criticizing a proposed bipartisan deal as "horrible" on U.S.
WASHINGTON, (Reuters) – Haitians will no longer be eligible for U.S. visas given to low-skilled workers, the Trump administration said yesterday, bringing an end to a small-scale effort to employ Haitians in the United States after a catastrophic 2010 earthquake.

WASHINGTON,  (Reuters) – Republican U.S. Senator Jeff Flake castigated President Donald Trump yesterday for his attacks on the media, saying Trump had embraced the despotic language of former Soviet dictator Josef Stalin and inspired modern-day authoritarians.
(Reuters) – Apple Inc will open a new campus as part of a five-year, $30 billion U.S.
WASHINGTON, (Reuters) – Former White House strategist Steve Bannon has reached agreement with U.S.