ALGIERS (Reuters) – Algeria's prime minister accused a Canadian of coordinating last week's raid on a desert gas plant and, praising the storming of the complex where 38 mostly foreign hostages were killed, he pledged to resist the rise of Islamists in the Sahara.
Algeria will never succumb to terrorism or allow al Qaeda to establish "Sahelistan", an Afghan-style power base in arid northwest Africa, Abdelmalek Sellal told a news conference in Algiers where he also said at least 37 foreign hostages died.
"There is clear political will," the prime minister said.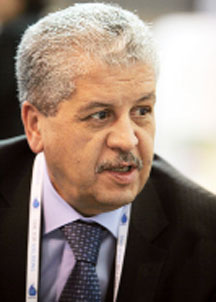 Claimed by an Algerian al Qaeda leader as a riposte to France's attack on his allies in neighbouring Mali the previous week, the four-day siege drew global attention to Islamists in the Sahara and Sahel regions and brought promises of support to African governments from Western powers whose toppling of Libya's Muammar Gaddafi helped flood the region with weapons.
The attack on a valuable part of its vital energy industry raised questions about the security capacity of an establishment that took power from French colonists 50 years ago, held off a bloody Islamist insurgency in the 1990s and has avoided the democratic upheavals the Arab Spring brought to North Africa.
Sellal said a Canadian citizen whom he named only as Chedad, a surname found among Arabs in the region, was among 29 gunmen killed and added that he had "coordinated" the attack. Another three militants were taken alive and were in custody.
Among hostages confirmed dead by their own governments were three Americans, seven Japanese, six Filipinos and three Britons; others from Britain, Norway and elsewhere were listed as unaccounted for. Sellal said seven of the 37 foreign dead were unidentified, while a further five foreigners were missing.
Nearly 700 Algerians and 100 other foreigners survived.
An Algerian security source said investigators pursuing the possibility that the attackers had inside help to map the complex and gain entry were questioning at least two employees.
Prime Minister David Cameron told parliament in London that Britain would increase its help to Algeria's intelligence and security forces and might do more for France in Mali, though he ruled out sending many of its stretched armed forces to Africa.
Noting a shift in the source of threats to British interests from Afghanistan to Africa, he also noted Sellal's rundown of a multinational group of gunmen from across north and west Africa and said the region was becoming "a magnet for jihadists".
Alongside a "strong security response", however, he called for efforts to address long-standing grievances, such as poverty and political exclusion, which foster support for violence. Some militants in Algeria want autonomy for the south and complain of domination by an unchanging establishment in Algiers.
Comments

BARCELONA,  (Reuters) – Spain mounted a sweeping anti-terror operation yesterday after a suspected Islamist militant drove a van into crowds in Barcelona, killing 13 people before fleeing, in what police suspect was one of multiple planned attacks.

BRIDGEWATER, N.J./WASHINGTON,  (Reuters) – President Donald Trump yesteday decried the removal of monuments to the pro-slavery Civil War Confederacy, echoing white nationalists and drawing stinging rebukes from fellow Republicans in a controversy that has inflamed racial tensions.

(Reuters) – Venezuela will hunt down and jail leaders of violent protests that have rocked the country since April, its new top prosecutor said yesterday, a day before a hate crimes law was expected to be approved despite fears that it will be used to crush dissent.

JOHANNESBURG, (Reuters) – South African police have put a "red alert" on the country's borders to prevent any attempted flight by Zimbabwean first lady Grace Mugabe, who is accused of assaulting a model in a Johannesburg hotel with an electric cable.
WASHINGTON,  (Reuters) – The United States and Japan will step up their defense cooperation to deal with the threat from nuclear-armed North Korea as tensions in East Asia remain high, officials from the two allies said yesterday.