TORONTO,  (Reuters) – Toronto's divisive mayor, Rob Ford, won an appeal today against a ruling that was set to remove him from office, defusing a showdown that has transfixed Canada's biggest city and allowing him to see out his four-year term.
Ford, a magnet for controversy during the two years he has spent as mayor, was ordered out of office last November after he was found guilty of conflict of interest, but he was allowed to stay on the job while he appealed.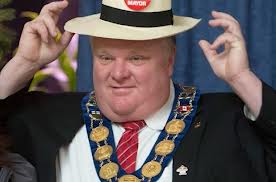 The initial court ruling said Ford was in conflict when he voted at city council to scrap a C$3,150 ($3,100) penalty imposed on him for accepting donations of the same amount from lobbyists for his football foundation.
Today, a panel of three judges ruled that "council did not have the jurisdiction to impose such a penalty". That means Ford did not break municipal conflict of interest laws by voting against the penalty at city council.
"This has been a very, very humbling experience," the rarely compunctious mayor told a news conference following the ruling, saying he plans to run for mayor again and spend the next six years in office.
The fight to toss Ford from the mayor's seat may not be over, however. Clayton Ruby, the high-profile Toronto lawyer pressing the case against Ford, said he will ask the Supreme Court of Canada to hear the case.
"The court has let Rob Ford off on a technicality … we believe that there are serious errors of law in the judgment," Ruby said in a statement.
FOUGHT TO LIMIT SPENDING, TAXES
Ford won office with promises to "stop the gravy train" at city hall, campaigning on keeping a tight control on spending and taxes.
But he has made headlines with a series of high-profile gaffes.
These include reading while driving on a city expressway, calling the police when a comedian tried to film part of a popular TV show outside his home, and skipping council meetings to coach high-school football.
Ford won a libel case recently in which he was sued for C$6 million ($5.98 million) over comments he made about corruption at city hall during his 2010 campaign for mayor.
But he still faces an audit of his election campaign expenses. The penalty in the audit case could also include removal from office.
($1=$1.0087 Canadian)
Comments

BARCELONA,  (Reuters) – Spain mounted a sweeping anti-terror operation yesterday after a suspected Islamist militant drove a van into crowds in Barcelona, killing 13 people before fleeing, in what police suspect was one of multiple planned attacks.

BRIDGEWATER, N.J./WASHINGTON,  (Reuters) – President Donald Trump yesteday decried the removal of monuments to the pro-slavery Civil War Confederacy, echoing white nationalists and drawing stinging rebukes from fellow Republicans in a controversy that has inflamed racial tensions.

(Reuters) – Venezuela will hunt down and jail leaders of violent protests that have rocked the country since April, its new top prosecutor said yesterday, a day before a hate crimes law was expected to be approved despite fears that it will be used to crush dissent.

JOHANNESBURG, (Reuters) – South African police have put a "red alert" on the country's borders to prevent any attempted flight by Zimbabwean first lady Grace Mugabe, who is accused of assaulting a model in a Johannesburg hotel with an electric cable.
WASHINGTON,  (Reuters) – The United States and Japan will step up their defense cooperation to deal with the threat from nuclear-armed North Korea as tensions in East Asia remain high, officials from the two allies said yesterday.