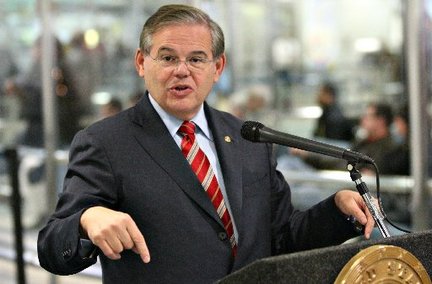 MIAMI, (Reuters) – New Jersey Senator Bob Menendez, a Democrat and incoming chairman of the powerful Senate Foreign Relations Committee, denied on Wednesday allegations that he engaged in sex with prostitutes during free trips to the Dominican Republic provided by a political donor.
The denial from Menendez, 59, who was re-elected to a second term last year, came as FBI agents searched the offices of a prominent South Florida eye doctor who is the donor linked to his alleged unpaid trips.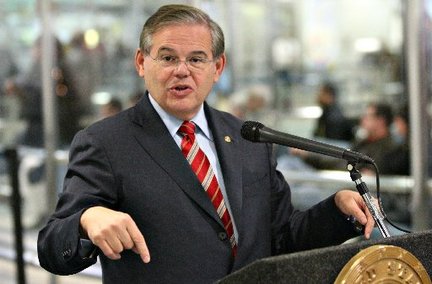 The FBI did not explain the motive for the raid on the offices of Dr. Salomon Melgen, 58, saying only that it was "conducting law enforcement activity" in the vicinity of the medical-office complex where Melgen's West Palm Beach eye clinic is located.
The sprawling light-blue office building, usually buzzing with customers from Melgen's booming practice, was cordoned off on Wednesday as news crews stood watch outside. Investigators had been inside the building through the night, and at about 2:30 p.m. agents loaded dozens of cardboard boxes into a white government van.
The Dominican-born Melgen did not immediately return a phone call from Reuters seeking comment.
Melgen's name has been linked in recent months to unsubstantiated reports, first published on the conservative Daily Caller website, that he provided Menendez with free trips aboard his private plane to the Dominican Republic where Menendez allegedly engaged in sex with underage prostitutes.
"Dr. Melgen has been a friend and political supporter of Senator Menendez for many years," Menendez's press office said in a emailed statement.
"Senator Menendez has traveled on Dr. Melgen's plane on three occasions, all of which have been paid for and reported appropriately. Any allegations of engaging with prostitutes are manufactured by a politically-motivated right-wing blog and are false."
Menendez, a Cuban American, is divorced and has two children. He served in the House of Representatives from 1993 until he became a senator in 2006.
Melgen and his family are longtime contributors to numerous political campaigns, including Menendez's, totaling $393,000 since 1998.
He has an outstanding lien of $11.1 million from the Internal Revenue Service for taxes owed between 2006 and 2009, according to records obtained from the Palm Beach County recorder's office.
Melgen fell victim to a Ponzi scheme in 2004 in which he lost $15 million, according to court documents.
In a letter to the Department of Justice in July last year, Washington-based political watchdog group Citizens for Responsibility and Ethics in Washington (CREW) requested that the FBI investigate "whether Senator Robert Menendez (D-NJ) engaged in sex tourism by engaging in illicit sexual acts with underage prostitutes in the Dominican Republic."
The letter, which was provided to Reuters by CREW, also asked the FBI to investigate if Menendez "solicited the services of a prostitute in Florida" and whether he violated the Mann Act banning the interstate trafficking of women for prostitution.
CREW's director said the watchdog group began looking into the Melgen-Menendez connection after receiving email messages last year from a man calling himself Peter Williams, who claimed to have information that Menendez had been traveling to the Dominican Republic with Melgen, using Melgen's private jet and staying at Melgen's Dominican homes in La Romana and the capital, Santo Domingo.
CREW's director Melanie Sloan said Williams refused to meet with or speak to CREW and she grew increasingly "skeptical" about the source, fearing that it might be a smear campaign by political enemies of Menendez.
"We don't know who Williams is, or even if that's his real name. So we decided to forward all the emails to the FBI."
Comments

CARACAS,  (Reuters) – Venezuela is preparing an international summit to rally support for an all-powerful lawmaking body, whose recent creation drew widespread foreign condemnation as a power grab by leftist President Nicolas Maduro.
SUBIRATS, Spain, (Reuters) – Spanish police yesterday shot dead an Islamist militant who killed 13 people with a van in Barcelona last week, ending a five-day manhunt for the perpetrator of Spain's deadliest attack in over a decade.

(Reuters) – Comedian Jerry Lewis died of end-stage heart disease when he passed away at his home at age 91 in Las Vegas on Sunday, Clark County Coroner John Fudenberg said yesterday.
WASHINGTON,  (Reuters) – President Donald Trump opened the door to an increase in U.S.
MAPUTO, (Reuters) – Mozambique's government plans to set up a sovereign investment fund where taxes paid on sales of the country's minerals will be used to finance development projects, state-run AIM news agency said on Monday quoting the finance minister.