CARACAS,  (Reuters) – Sobbing and shouting, a sea of Hugo Chavez's supporters paraded his coffin through the streets of Caracas yesterday in an emotional outpouring that could help his deputy win an election to keep his socialist revolution alive.
Hundreds of thousands of "Chavistas" marched behind a hearse carrying the body of the flamboyant and outspoken president, draped in Venezuela's blue, red and yellow national flag.
Avenues resounded with chants honoring the former paratrooper as supporters showered flowers onto his coffin and jostled to touch it. Loudspeakers played recordings of the charismatic socialist giving speeches and singing.
Some supporters held heart-shaped placards that read: "I love Chavez!" Others cheered from rooftops, waving T-shirts.
Ending one of Latin America's most remarkable populist rules, Chavez died on Tuesday at age 58 after a two-year battle with cancer that was first detected in his pelvis.
His body was taken to a military academy to lie in state at the tip of a grand esplanade until his state funeral on Friday.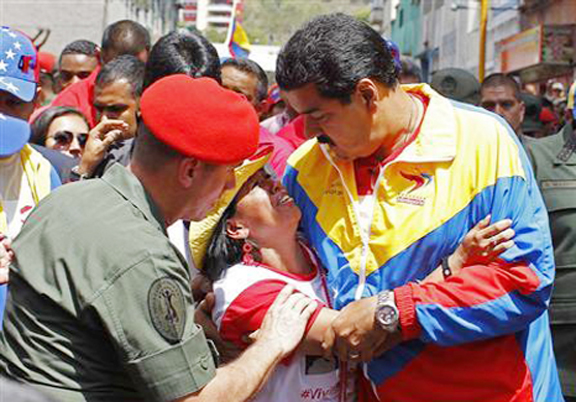 The future of Chavez's socialist policies, which won him the adoration of poor Venezuelans but infuriated opponents who denounced him as a dictator, now rests on the shoulders of acting President Nicolas Maduro, the man he tapped to succeed him.
"We ask our people to channel this pain into peace," Maduro said.
Maduro, a 50-year-old former bus driver and union leader, will face Henrique Capriles, the centrist governor of Miranda state, in an election now due within weeks in the OPEC nation with the world's largest oil reserves.
Opposition parties and Capriles have agreed he will make another bid for the presidency, sources said yesterday.
He lost to Chavez in last year's election but had a respectable 44 percent of the vote, the best performance by any candidate against Chavez in a presidential vote.
One recent opinion poll gave Maduro a strong lead over the 40-year-old Capriles. Maduro is likely to benefit from the surge of emotion following the president's death.
Authorities said the vote would be called within 30 days, as stipulated by the constitution, but did not specify when.
The tall, mustachioed Maduro has long been a close ally of Chavez. He pledges to continue his legacy and it is unlikely he would make major policy changes.
He will now focus on rallying support from Chavez's diverse coalition, which includes leftist ideologues, business leaders who have contracts with the state, and radical armed groups called "colectivos."
Some have suggested Maduro might try to ease tensions with foreign companies and the U.S. government. Yet hours before Chavez's death, Maduro alleged that "imperialist" enemies had infected the president with cancer and he expelled two U.S. diplomats accused of conspiring with domestic opponents.
Venezuela's military commanders pledged loyalty to Maduro, who will be caretaker leader until the election, and soldiers fired 21-gun salutes to Chavez in barracks across the nation.
A victory by Capriles, a centrist politician who says Venezuela should follow Brazil's softer center-left model, would be welcome by investors and bring big changes – though he has urged calm.
"Don't be scared. Don't be anxious. Between us all, we're going to guarantee the peace this beloved country deserves," Capriles said in a condolence message.
Venezuelan debt prices fell yesterday as investors opted to lock in gains chalked up in anticipation of Chavez's death, citing short-term political uncertainty.
ALLIES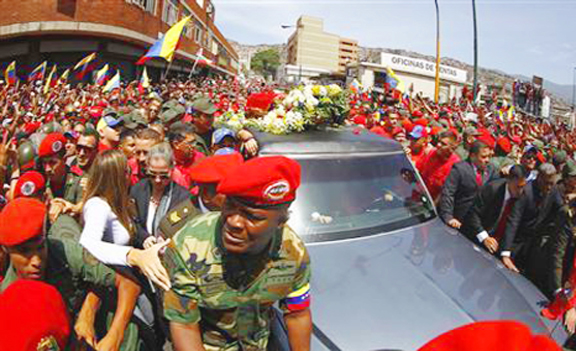 The stakes are also huge for leftist Latin American allies like Cuba, Nicaragua, Ecuador and Bolivia that for years have relied on Chavez for economic aid.
But past and present leaders of other countries in the region – mainly free-traders like Peru, Chile, Colombia, Panama and Mexico – periodically rejected his overtures, criticized his statist policies and, for Washington, served as a buffer against him.
It was not immediately clear where Chavez would be buried.
He had ordered a striking new mausoleum built in downtown Caracas for the remains of 19th century independence hero Simon Bolivar, his inspiration, and it is due to be finished soon. Some allies are already saying he should be buried there.
Despite the tumult around the coffin procession, much of Caracas was quiet, with streets deserted, especially in wealthier districts. Many shops locked their doors out of fear of looting. There were long lines outside gasoline stations.
A stony-faced Bolivian President Evo Morales joined Maduro at the front of the procession. The presidents of Argentina and Uruguay joined them for a vigil by the coffin. Other regional leaders were slated to attend his funeral on Friday.
"This has hit me very hard, I'm still in shock," said Leny Bolivar, a 39-year-old education ministry worker, her eyes red from tears. "We must keep fighting; he set out the way."
Condolences flooded in from around the world – ranging from the Vatican and the United Nations to allies like Iran and Cuba.
Syrian President Bashar al-Assad mourned Chavez's death as a great loss, extolling his opposition to the "war on Syria."
OBAMA REACHES OUT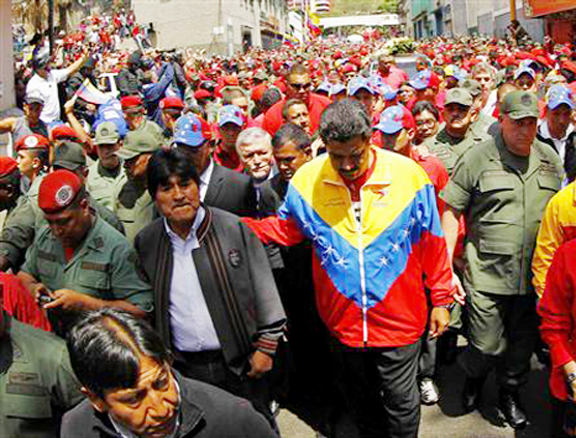 U.S. President Barack Obama was less effusive about a man who put his country at loggerheads with Washington, saying his administration was interested in "developing a constructive relationship with the Venezuelan government."
In a potentially conciliatory gesture, the United States, a major oil client of Venezuela, is expected to send a delegation to the funeral.
Opponents at home hoped for a fresh start.
"Chavez was very dominant and used the powers of state in a very discretional way, as though this was his own estate," Juan Vendrell, a 58-year-old engineer, said in a wealthy neighborhood of Caracas. "I would like a change and for institutions and democracy to be restored."
Chavez led Venezuela for 14 years and had won a new six-year term in an election in October, defeating Capriles.
His folksy charisma, anti-U.S. diatribes and oil-financed projects to improve life for residents of long-neglected slums created an unusually powerful bond with many poor Venezuelans.
That intense emotional connection underpinned his rule, but critics saw his autocratic style, gleeful nationalizations and often harsh treatment of rivals as hallmarks of a dictator whose policies squandered a historic bonanza of oil revenues.
The nationalizations and strict currency controls under Chavez frightened off investors. Even some of his followers complained that he focused too much on ideological issues at the expense of day-to-day problems such as power cuts, high inflation, food shortages and violent crime.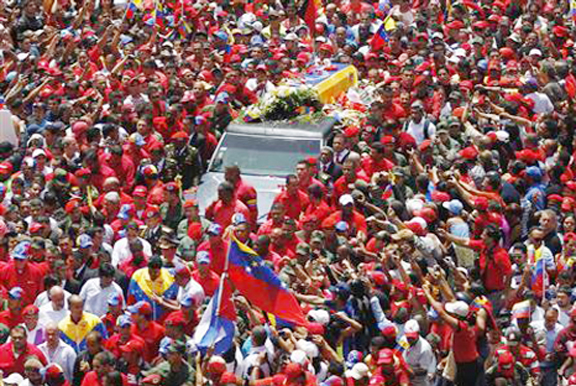 Chavez's health declined sharply just after his re-election on Oct. 7, possibly due to his decision to campaign for a third term instead of stepping aside to focus on his recovery.
The government declared seven days of mourning.
"His legacy will be the transformation of Venezuelan political culture, putting social inequality and poverty alleviation at the top of the political agenda," said Diego Moya-Ocampos, a Venezuela analyst.
"However, that came at the cost of greater authoritarianism in government and challenges to democracy as he sought to consolidate his leadership."
Around the Web