GUATEMALA CITY, (Reuters) – Former Guatemalan dictator Efrain Rios Montt's defense team rejected charges he allowed the slaughter of civilians in Guatemala's civil war, as his country became the world's first to prosecute an ex-head of state for genocide and crimes against humanity.
For decades, Rios Montt, 86, was not prosecuted for alleged atrocities committed during his 1982-1983 rule in a particularly bloody phase of the country's long civil war, protected as a congressman by a law that grants immunity to public officials.
Rios Montt, who left Congress last year, was finally ordered to stand trial in January when a judge found sufficient evidence linking him to the killing of more than 1,700 indigenous people in a counterinsurgency plan executed under his command.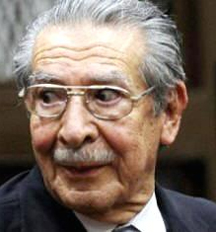 Prosecutors allege Rios Montt turned a blind eye as soldiers used rape, torture and arson against leftist insurgents and targeted indigenous people in a "scorched earth" offensive that killed at least 1,771 members of the Mayan Ixil group.
His defense team had until now stalled the process with a series of appeals, arguing he did not control battlefield operations and that there was no genocide in Guatemala.
Rios Montt, who sat calmly listening to testimony through large earphones because of hearing problems, made it clear he would have little to say, on the first day of the trial.
"Whatever I say or don't say will be used against me," Rios Montt told reporters before the trial. "I have to keep quiet. I am staying quiet."
In opening statements, prosecutors argued that Rios Montt's government put indigenous people in concentration camps while employing rape and torture to terrify the population.
But his lawyer Francisco Garcia said he was innocent.
"We will demonstrate and you all will confirm that there was never a genocide in Guatemala. General Rios Montt is not guilty. He did not participate in the crimes that have been attributed to him," Garcia told the packed court.
In a bizarre twist, Garcia was later dismissed from the case by Chief Judge Iris Yasmin Barrios, citing Garcia's friendship with another judge on the panel. Other lawyers continued with Rios Montt's defense.
Around the Web