VATICAN CITY, (Reuters) – Pope Francis set the tone for a new, humbler papacy at his inaugural Mass yesterday where he called for the Church to defend the weak and protect the environment.
Addressing up to 200,000 people including many foreign leaders gathered under bright sunshine in St. Peter's Square, the Argentine pope underlined his central message since he was elected by a secret conclave of cardinals last Wednesday – that the Church's mission was to defend the poor and disadvantaged.
The Mass, formally installing Francis as head of the world's 1.2 billion Roman Catholics, was much simpler and an hour shorter than the baroque splendour of his predecessor Benedict's inauguration in 2005.
Although he is as conservative doctrinally as Benedict Francis's simpler style and emphasis on the poor marked a sea change from his predecessor that has been widely welcomed by Catholics.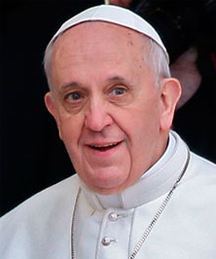 The first Jesuit pope inherits a Church mired in scandals over priests' sexual abuse of children and the leak of confidential documents alleging corruption and rivalry between cardinals inside the Church government or Curia.
He has also been accused by some critics in Argentina of not doing enough to oppose human rights abuses under a military government during the 1976-1983 "dirty war" when some 30,000 leftists were kidnapped and killed. The Vatican has denied the accusations.
In his homily, delivered on the steps of the giant St. Peter's Basilica, Francis, 76, said the Church's mission "means respecting each of God's creatures and respecting the environment in which we live.
"It means protecting people, showing loving concern for each and every person, especially children, the elderly, those in need, who are often the last we think about."
The message chimed with the teachings of the 13th century St. Francis of Assisi, from whom the pope took his name and who is a symbol of poverty, simplicity, charity and love of nature.
In another sign that he wants to maintain a simple life, Francis is still staying at the Vatican hotel where he lived during the conclave and did not move into a suite reserved for him, a spokesman said. It is not clear when he will move into the Apostlic Palace.
Around the Web