JAKARTA (Reuters) – All 108 passengers and crew miraculously survived when a Lion Air Boeing 737 missed the runway on the balmy Indonesian resort island of Bali yesterday and landed in the sea.
Forty people were treated for injuries including broken legs, head wounds and shock, though only four were admitted to hospital, hospital officials said.
The brand new aircraft had flown from Bandung, in West Java, and was about to land at Bali airport. "But it probably failed to reach the runway and fell into the sea," said Lion Air spokesman Edward Sirait.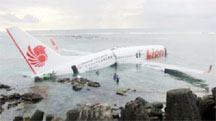 He said there were 101 passengers and seven crew on board but would not comment on the cause of the crash. An investigation is under way.
Bali's police chief told local television that there were two foreign passengers.
"There was no sign at all it would fall but then suddenly it dropped into the water," passenger Tantri Widiastuti, 60, told Metro TV. "I saw holes in the floor of the plane … we were evacuated quickly."
Around the Web