(Trinidad Guardian) – Attorney General Anand Ramlogan said on Thursday that former Clico executive chairman Lawrenc
e Duprey is now considered a wanted man and Director of Public Prosecutions (DPP) Roger Gaspard has assembled a specialist team of criminal investigators, including an international auditing firm and experienced lawyers, to start a probe of the businessman.
The specialist team of investigators is "working assiduously and the criminal investigation is under way," Ramlogan said during yesterday's post-Cabinet news conference at the Diplomatic Centre in St Ann's. The AG also said the Police Service has questions to answer about its failure to serve a summons on Duprey from the Sir Anthony Colman Commission of Enquiry into the collapse of CL Financial and the Hindu Credit Union (HCU).
He was referring to Duprey's failure to appear before the commission on Wednesday. Both Duprey and former CL Financial Group financial director Andre Monteil, key witnesses to the enquiry, failed to appear, prompting Colman to suggest that the Government should consider giving commissions more power so as to be able to compel witnesses
to appear.
Asked specifically yesterday what this meant for the ongoing enquiry, Ramlogan said Duprey's failure to appear in a matter where he was the "central protagonist" effectively "makes him a wanted man."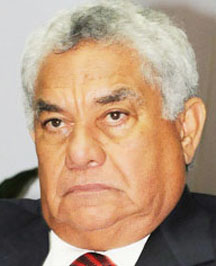 He said Duprey had entered the country and left without the summons being served on him in the period between its issuance and his failure to appear on at the enquiry on Wednesday. The AG did not give details of the arrival and departure of the former Clico executive. However, he said the People's Partnership Government "would want to have answers as to whether or not the Police Service acted quickly when they knew the commission had issued a summons (for Duprey)."
Ramlogan said the government also wanted to know if the police, knowing that Duprey lives in Ft Lauderdale in the United States, took steps to notify their US counterparts about the matter. More importantly, he said, "Our immigration authorities ought to have been alerted. Mr Duprey's name ought to have been red-flagged in the system, because the minute he enters our territorial airspace or waters, he is liable to be properly served with that summons. "If it is, from our Immigration records, Mr Duprey was allowed to enter and leave without being served, then that is a serious indictment and it raises a lot of questions that require answers," Ramlogan said.
He said this matter was one of "great and urgent public importance and it required some priority from the Police Service."  He said Duprey did not need a summons to tell him he was wanted by a commission of enquiry because he had lawyers who were representing him in the commission. In response to another question, Ramlogan said questions about Duprey's return and departure were a matter for the Chief Immigration Officer and the Commissioner of Police. The AG said Duprey's "non-appearance and the failure to co-operate provides the commission with a solid legal platform and foundation to make the kind of findings and adverse inferences based on the unanswered evidence and the unchallenged testimony before the commission of enquiry."
Around the Web