ISTANBUL, (Reuters) – Turkish riot police fought running battles with pockets of protesters overnight after storming a central Istanbul square in a show of force that risked ratcheting up tensions almost two weeks after anti-government demonstrations began.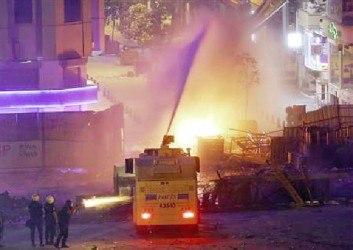 Prime Minister Tayyip Erdogan, who has repeatedly dismissed the demonstrators as "riff-raff", was expected to meet protest leaders on Wednesday though one core group said it had not been invited and would not attend anyway.
Police fired volleys of tear gas canisters into the centre of a crowd of thousands on Taksim Square without warning at dusk yesterday. The crowd included people in office clothes gathered after work and families with children, as well as youths in masks who had fought skirmishes throughout the day.
Clouds of choking tear gas sent them scattering into side streets. Staff in surrounding hotels raised shutters just enough to allow people to crawl inside for shelter, as water cannon swept across the square targeting stone-throwing youths.
The fierce crackdown on the initial protests against the planned redevelopment of Gezi Park, a leafy corner of Taksim, drew international condemnation and calls for restraint. The latest police move came a day after Erdogan agreed to meet protest leaders involved in the initial demonstrations.
"There's no room for dialogue when there's ongoing violence," said Mucella Yapici of the Taksim Solidarity Platform, a core group behind the Gezi Park campaign.
Chanting gangs of hard-core demonstrators taunted police in the narrow lanes leading down to the Bosphorus waterway late into the night, drawing more tear gas and water cannon spray. Municipal workers used bulldozers to remove the remains of vandalised vehicles and clear the square above.
Police also fired water cannon to disperse protesters in the centre of the capital, Ankara.
Erdogan earlier called on protesters to stay out of Taksim, where a heavy-handed police crackdown on a rally against development of Gezi Park triggered an unprecedented wave of protest in cities across Turkey almost two weeks ago.
UNYIELDING
Gezi Park has been turned into a ramshackle settlement of tents by leftists, environmentalists, liberals, students and professionals who see the development plan as symptomatic of an overbearing government.
The authorities have said legitimate protesters in the park will be allowed to stay, for now, and they remained camped out.
Around the Web