WARRI, Nigeria,  (Reuters) – After two days trapped in freezing cold water and breathing from an air bubble in an upturned tugboat under the ocean, Harrison Okene was sure he was going to die. Then a torch light pierced the darkness.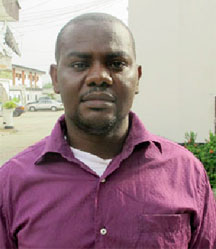 Ship's cook Okene, 29, was on board the Jascon-4 tugboat when it capsized on May 26 due to heavy Atlantic ocean swells around 30 km (20 miles) off the coast of Nigeria, while stabilising an oil tanker filling up at a Chevron platform.
Of the 12 people on board, divers recovered 10 dead bodies while a remaining crew member has not been found.
Somehow Okene survived, breathing inside a four foot high bubble of air as it shrunk in the waters slowly rising from the ceiling of the tiny toilet and adjoining bedroom where he sought refuge, until two South African divers eventually rescued him.
"I was there in the water in total darkness just thinking it's the end. I kept thinking the water was going to fill up the room but it did not," Okene said, parts of his skin peeling away after days soaking in the salt water.
"I was so hungry but mostly so, so thirsty. The salt water took the skin off my tongue," he said. Seawater got into his mouth but he had nothing to eat or drink throughout his ordeal.
At 4:50 a.m. on May 26, Okene says he was in the toilet when he realised the tugboat was beginning to turn over. As water rushed in and the Jascon-4 flipped, he forced open the metal door.
Around the Web