MEXICO CITY, (Reuters) – A Mexican judge yesterday ordered the detention of a former Mexican governor suspected of embezzling millions in public funds, deepening a scandal that will test President Enrique Pena Nieto's anti-corruption agenda.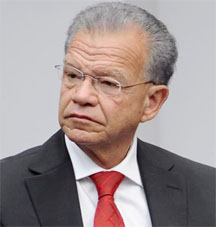 Andres Granier, who was governor of Mexico's southern Tabasco state until his term ended in December, had been scheduled to appear before state prosecutors for questioning, but instead was admitted to a hospital after complaining of chest pains.
The Tabasco prosecutor's office said Granier will remain under detention for 30 days as the investigation continues and it was unclear when he will return to Tabasco.
Granier is a member of Pena Nieto's ruling Institutional Revolutionary Party, or PRI, which was heavily tainted by allegations of corruption by the time it was voted out of power in 2000 after ruling Mexico for seven decades.
This week, police said they wanted Granier for questioning after 88.5 million pesos ($6.98 million) in cash was found in an office used by his former state finance minister, Jose Manuel Saiz.
The government said Granier left Tabasco 20 billion pesos in debt and that at least 1.9 billion pesos of public funds were embezzled between 2011 and 2012 – a sum worth nearly 80 percent of the state's 2012 tax revenue.
Granier, who denies wrongdoing, gave Mexicans an insight into his expensive tastes last month when a recording of him boasting of his shopping sprees in Miami, Beverly Hills and Hollywood was posted online.
"You may not believe it, but I have 400 pairs of shoes, 300 suits, 1,000 shirts, and it's not to show off, it's because I like them and I look after them," said Granier.
He later called a local radio station, said he was drunk and dismissed the allegations against him.
To demonstrate his commitment to cleaning up the PRI, Pena Nieto sent a raft of anti-corruption legislation to Congress after becoming president last year. However, the measures to improve transparency and accountability have stalled.
Around the Web