CHICAGO, (Reuters) – Former President Jimmy Carter, who is sponsoring a conference this week on equality for women in religion, said that some religious institutions are sexist, including the Roman Catholic Church.
"How many Catholic priests do you know that are women? None," Carter said in a telephone interview.
This week at the Carter Center in Atlanta, Carter will open a conference called Mobilizing Faith for Women to encourage religious leaders to advance equal rights. The conference will include discussion of sex trafficking and war's impact on women.
Carter was known during his political career for being open about his "born-again" Baptist faith.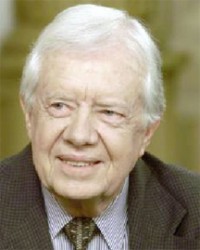 But he publicly broke with the Southern Baptist Convention, the nation's largest Protestant denomination, over its decision in 2000 to oppose women as pastors, and is now vocal about discrimination against women by religious leaders.
In the interview conducted on June 20, Carter identified many ways in which women are treated as second-class citizens, including unequal pay in the United States.
"The root cause of it is two-fold," Carter said. "The major religions preach women are inferior to men, and the other thing is just the general condonement of violence in society. The U.S. is one of the prime examples of constant war."
He said the way the Islamic faith is interpreted in some regimes is "very punitive" toward women, such as in Saudi Arabia, where women are banned from driving cars. The Taliban, an Islamic fundamentalist political movement in Afghanistan, shows "extreme prejudice" toward women, Carter said.
"In some areas, women are treated as children all their lives," Carter said.
Carter belongs to the Cooperative Baptist Fellowship, a moderate group that split from the Southern Baptist Convention.
"We believe in complete equality between men and women," he said.
Carter's wife, Rosalynn, is a deacon at their Plains, Georgia church, where he teaches Sunday school.
He sees progress in equal treatment of women among certain Protestant denominations including the Methodists and Episcopalians.
He also sees progress in some Islamic countries, such as Tunisia. Also, a group of religious and traditional leaders in Africa called Tostan have eliminated genital cutting and reduced child marriages in 6,000 villages.
Around the Web