SAO PAULO (Reuters) – President Dilma Rousseff's approval rating sank by 27 percentage points in the last three weeks, a poll showed yesterday in the strongest evidence yet that the recent wave of street protests sweeping Brazil poses a serious threat to her likely re-election bid next year.
The share of people who consider Rousseff's administration "great" or "good" plummeted to 30 per cent from 57 per cent in early June, according to a Datafolha opinion poll published in local newspaper Folha de S.Paulo.
The drop was the sharpest for a Brazilian leader since 1990, when Fernando Collor outraged the population by freezing all savings accounts in a desperate attempt to stop hyperinflation. Two years later, Collor resigned the presidency as Congress moved to impeach him over corruption allegations.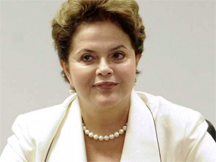 Voting intentions on Rousseff in next year's election also slumped, dropping to 30 per cent from 54 per cent in a similar survey conducted in December, Datafolha added later yesterday. Former environment minister Marina Silva and Minas Gerais Senator Aecio Neves appeared as her strongest adversaries, with 23 and 17 per cent of the voting intentions respectively.
Until recently, Rousseff had enjoyed some of the highest approval ratings of any leader in the Western world, largely thanks to record-low unemployment. But her popularity started to slip in early June as rising consumer prices began to eat away at Brazilians' purchasing power, a sure recipe for trouble in a country with a long history of runaway inflation.
Then came the nationwide street demonstrations of the past few weeks, which have sent shockwaves through Brazil's political establishment. While the protests have not been directed at a single leader or party, widespread discontent with a ruling class that is seen as self-serving and corrupt is eroding the popularity of politicians at all levels, including Rousseff.
The Datafolha poll was the first taken since more than a million Brazilians poured on to the streets in recent weeks to protest against a litany of grievances, from corruption and poor public services to outrage at billions of dollars in taxpayer money being spent to host the 2014 soccer World Cup.
The president's approval rating fell sharply in all regions of the country, the poll showed. In the Northeast, birthplace of her popular predecessor, Luiz Inacio Lula da Silva, and a stronghold of the ruling Workers' Party (PT), the share of people who view the administration favourably sank to 40 per cent from 64 per cent in a poll on June 8.
Around the Web