LONDON,  (Reuters) – The British government, accused of abusing media freedom, said yesterday police were right to detain a journalist's partner if they thought lives might be at risk from data he was carrying from fugitive U.S. intelligence contractor Edward Snowden.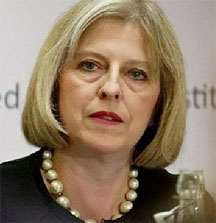 Facing legal and diplomatic complaints after police held Guardian writer Glenn Greenwald's Brazilian partner for nine hours on Sunday – and accused by the newspaper of forcing it to trash computers holding copies of Snowden's data – the interior minister said officers were entitled to take security measures.
Home Secretary Theresa May said police held David Miranda at a London airport under anti-terrorism powers, which allow for action to prevent stolen data to aid terrorists. Material from Snowden, published by the Guardian, has revealed extensive U.S. and British surveillance of global communications networks.
"It's absolutely right that if the police believe that somebody is in possession of highly sensitive, stolen information that could help terrorists, that could risk lives, lead to a potential loss of life, the police are able to act – and that's what the law enables them to do," May told the BBC.
She added, however, that an independent reviewer was looking into the police conduct.
As interior minister, May said she was briefed in advance that Miranda might be stopped but added that she did not decide who the police detained. The United States said Britain gave it a "heads up" but it did not ask for Miranda to be questioned.
Snowden, who faces criminal charges in the United States, has been granted a year's asylum by Russia.
A British lawyer who launched an action on Miranda's behalf to question the legal basis of his detention said police seized a laptop computer, a telephone, memory sticks, a computer hard drive and a games console from him. He was released without charge after reaching a time limit on such detentions.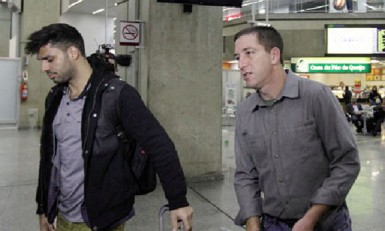 Miranda had been in transit at Heathrow airport, carrying material from Snowden that was being passed from Berlin-based American documentary filmmaker Laura Poitras to Greenwald, an American writer for Britain's Guardian who lives in Rio de Janeiro.
"These items contain sensitive, confidential journalistic material and should not have been seized," Miranda's London lawyers wrote in a letter to May and the police.
In an interview with CNN along with Greenwald, Miranda said the officers who questioned him told him he could be jailed if he did not answer everything they asked. Even though he was detained under an anti-terrorism law, he said: "No, they didn't ask me anything about terrorism – not one question about it."
Brazil's government has complained to Britain. The action against Miranda also was denounced by British opposition politicians, human rights lawyers and press freedom groups.
The leaks by Snowden, a former U.S. National Security Agency (NSA) contractor, disclosed details of NSA and British surveillance of public telephone and internet traffic. The United States and Britain say their agencies acted within their laws and the leaks threatened their national security.
'YOU'VE HAD YOUR FUN'
Yesterday, Guardian editors revealed how and why the newspaper destroyed computer hard drives containing copies of some of the secret files leaked by Snowden.
A timeline of events provided by the Guardian said initial British attempts to stop reporting on the files came two weeks after the newspaper published its first three stories based on Snowden's leaks.
These stories were about a secret U.S. court order obliging communications company Verizon to hand over data on customers' phone usage, Britain's secretive Govern-ment Communications Head-quarters' (GCHQ) use of data from an NSA internet monitoring programme, and British intelligence spying on allies in London.
Around the Web