CAIRO, (Reuters) – Deposed Egyptian leader Hosni Mubarak will leave jail as early as today after a court ruling that jolted a divided nation already in turmoil seven weeks after the army toppled Islamist President Mohamed Mursi.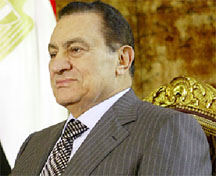 Mubarak will then be put under house arrest, the prime minister's office said in a statement. The decision was authorised under Egypt's Emergency Law recently enacted under a security crackdown on Islamists, it added.
Citing a security source, the state news agency said that Mubarak would "likely" be transported to one of the state's vital installations or one of two military hospitals where he will be guarded under heavy security.
By keeping Mubarak under house arrest, Egyptian leaders may be trying to show they will not be too lenient with him to avoid angering the many Egyptians who held mass protests that led to the end of his iron rule in 2011.
Two groups of activists have already called for sit-ins in Cairo to protest his expected release.
Convening on Wednesday at the Cairo jail where Mubarak is held, the court ordered the release of the military man who ruled Egypt for 30 years until he was overthrown during the uprisings that swept the Arab world in early 2011.
Asked when his client would go free, Mubarak's lawyer, Fareed al-Deeb, told Reuters, "Maybe tomorrow".
Mubarak, 85, was sentenced to life in prison last year for failing to prevent the killing of demonstrators. But a court accepted his appeal earlier this year and ordered a retrial.
The ailing ex-president probably has no political future, but some Egyptians were indignant at the court ruling, which state prosecutor Ahmed el-Bahrawi said could not be appealed.
"The army has brought back Mubarak's regime, the same regime," said Guma Abdel Alim outside a bicycle shop in central Cairo. "Those who were elected by the people are now in prison."
He was referring to a wide-scale security sweep on Mursi's Muslim Brotherhood that has netted many of its leaders.
Shopworker Rubi Abdel Azim said Mubarak had been the worst ruler in Egypt's history, but a passerby in a worn-out shirt disagreed. "He was the greatest president," said Nagi Hassan.
Political turbulence has kept Egypt on edge for months. At least 900 people, including 100 soldiers and police, have been killed in a crackdown on Mursi supporters in the past week, making it the country's bloodiest internal episode in decades.
Mubarak's release could add to tensions in a country where the Muslim Brotherhood has accused the army of trying to bring back the old government.
Around the Web