AMMAN/DOHA,  (Reuters) – General Ali Habib, a former Syrian defence minister, has become the most senior member of President Bashar al-Assad's ruling Alawite sect to defect, opposition figures said yesterday.
Habib had been under house arrest since he resigned in protest at Assad's crackdown on demonstrators in 2011 but had reached the Turkish border late on Tuesday with Western help, Kamal al-Labwani of the Syrian National Coalition told Reuters.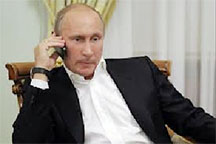 Other sources also said Habib had fled but Syrian state television denied he had left his home. Turkey's foreign minister said he could not confirm the general had defected.
Washington and Syria's main backer Russia remained publicly at odds over U.S. plans for a possible military strike but both raised the prospect of easing the deadlock when President Vladimir Putin hosts world leaders at a G20 summit today.
U.S. President Barack Obama said he would continue to try to persuade Putin of the need for punitive strikes on Assad for using chemical weapons when the two meet in St. Petersburg.
But Putin again questioned Western evidence. He accused U.S. Secretary of State John Kerry outright of lying when, in urging Congress to approve strikes on Syria, Kerry played down the role of al Qaeda in the rebel forces. "Al Qaeda units are the main military echelon, and they know this," Putin said.
"He is lying and knows he is lying. It's sad."
Earlier, Putin had said in a pre-summit interview with the Associated Press that he could not absolutely "rule out" Russia supporting a U.N. Security Council resolution to punish Assad – if it could be proved he had used poison gas.
Around the Web