OSLO,  (Reuters) – Norway's centre-right opposition, promising tax cuts, privatisation and a smaller government, is set for a sweeping election win on Monday, ousting a Labour-led government accused of wasting a once-in-a-lifetime economic boom.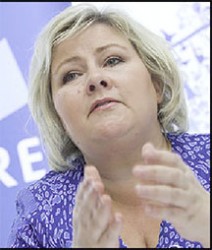 The only electoral risk facing the likely next prime minister, Conservative Erna Solberg, is an anti-immigration party whose participation in her coalition could repulse other potential allies and deprive her of a full majority.
Norwegians look likely to punish Prime Minister Jens Stoltenberg, seen by some as having failed to use the best of times to prepare for life after oil.
"For a country claiming to be one of the richest in the world, our health system is quite awful and the roads are terrible," Oslo office clerk Marcus Holm said. "After eight years it's just enough (of Stoltenberg)."
With a flourishing offshore oil sector filling state coffers and boosting per capita GDP to $100,000, Norway has enjoyed rare economic success even during Europe's crisis.
But that will not save Stoltenberg, even if, as polls show, his Labour party still ends up with the biggest share of the vote, at 30 percent. Four opposition parties are on course for around 100 seats in parliament, 15 more than needed for a majority.
"We need more legs to stand on in the economy, not just oil," said Solberg, 52, who cast her vote in Bergen on Sunday. "We are a liberal-conservative party, we do not make revolutions … This will be a road of small steps."
The anti-immigration and anti-tax Progress Party is set to finish second among the opposition groups and will likely hold the balance of power.
Although Progress has toned down its rhetoric, it is seen by some as too radical for government and once had among its members Anders Behring Breivik, who killed 77 people in 2011 in a gun and bomb attack targeting Labour.
The small Christian Democrats and Liberals, whose votes may also be needed for a majority, have made it clear they are not keen on teaming up with Progress, objecting to its policies on immigration and spending, raising the prospect Solberg would have to rule in a minority.
"A majority government isn't necessarily the norm in Norway and it's slightly more likely we'll get a minority," Elisabeth Ivarsflaten, a political science professor at the University of Bergen said. "Norway has had many minority governments and they tend to work."
Bringing Progress into government will likely force Solberg to compromise on several issues and she is expected to make some concessions on spending, taxes and perhaps even a symbolic gesture on immigrations, but any shift is likely to be moderate.
Around the Web