DUBAI (Reuters) – Human rights lawyer Nasrin Sotoudeh, seen by campaign groups as Iran's highest profile political prisoner, was freed yesterday, in another sign that hardline policies may be easing under a new president.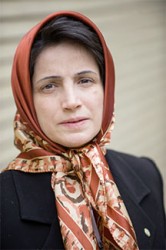 Other prisoners linked to the mass protests after the disputed 2009 re-election of President Mahmoud Ahmadinejad were also freed, opposition website Kaleme reported, raising hopes among activists for a possible reconciliation between Iran's conservative religious leadership and its pro-reform critics.
"I am free from prison today and I am glad but I am worried for my friends in prison," Sotoudeh told CNN by telephone from Tehran, adding that she was "free forever", not on temporary release, and planned to resume her legal career.
Arrested in September 2010, Sotoudeh was serving a six-year term for spreading propaganda and conspiring to harm state security.
Sotoudeh, 50, who defended journalists and rights activists including Nobel Peace laureate Shirin Ebadi, went on hunger strike for nearly 50 days last year to force authorities to repeal a travel ban on her young daughter.
With fears that she might die, the United States was among the countries criticising Iran and demanding Sotoudeh be freed.
The prison releases come less than a week before President Hassan Rouhani addresses the UN General Assembly for the first time and is expected to present a less confrontational image than Ahmadinejad, under whose eight years in power Iran came under ever-tougher Western trade sanctions.
Rouhani won a surprise victory over hardline rivals in June, pledging to ease some political and social restrictions, and his supporters have called for the release of political prisoners.
Around the Web