SANTA ANA, Calif (Reuters) – Human trafficking charges against a Saudi princess accused of holding a Kenyan servant as a virtual prisoner in her California home were dismissed by a judge yesterday after prosecutors said they were unable to corroborate the allegations.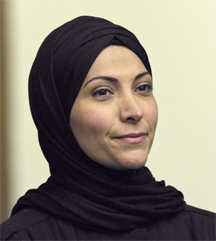 The 42-year-old princess, Meshael Alayban, smiled broadly as she left a Santa Ana courtroom after the judge lifted her $5 million bond, returned her passports, and ordered that an electronic monitoring device be removed.
Alayban had been charged with bringing her accuser to the United States in May, confiscating her passport and paying her $220 a month to work 16 hours a day, seven days a week in circumstances Orange County's top prosecutor had likened to slavery.
But during a five-minute court proceeding that had been scheduled as an arraignment, District Attorney Tony Rackauckas told the judge, "The allegations cannot be corroborated, the people move to dismiss."
The judge agreed, and defense lawyer Paul Meyer said in court, "On behalf of the court and the nation of Saudi Arabia, we thank the DA for being a man of integrity."
Around the Web