AMSTERDAM,  (Reuters) – Judges at the International Criminal Court announced yesterday it had issued a warrant for the arrest of Charles Ble Goude, accused of working with former Ivorian President Laurent Gbagbo to orchestrate deadly post-election violence.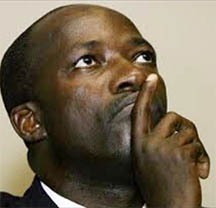 He is the third person, after Gbagbo and Gbagbo's wife Simone, to be indicted by the court for events relating to the post-election civil war in 2010 and 2011, in which more than 3,000 people died.
Ble Goude, 40, headed the youth wing of Gbagbo's political movement and is charged with four counts of crimes against humanity, including murder and rape, committed in Ivory Coast between December 2010 and April 2011.
Gbagbo, who is accused of plunging his country into civil war rather than relinquishing his grip on power after losing the presidential election in 2010, has been in the ICC's custody since November 2011 when he was handed over by his political opponent and successor Alassane Ouattara.
Ouattara's government has since become less keen on cooperating with the international court, delaying handing over Simone Gbagbo, who faces similar charges, before announcing last month that it would try her in a domestic court.
The Ivorian government says its justice system is now sufficiently rehabilitated to try Simone Gbagbo and on Monday introduced a motion of inadmissibility with the ICC in relation to her case.
Ivorian government spokesman Bruno Kone declined to say whether a similar motion would be filed for Ble Goude, who was arrested in January in Ghana and is now in custody in Ivory Coast.
Around the Web