(Reuters) – Best-selling U.S. author Tom Clancy, who thrilled readers with vivid descriptions of soldiers and spies in novels including "The Hunt for Red October" and "Patriot Games," has died at 66, his publisher said yesterday.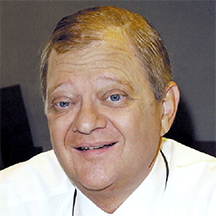 Clancy, whose books sold more than 100 million copies, died on Tuesday in his hometown of Baltimore, Maryland, Penguin said.
"I'm deeply saddened by Tom's passing," said David Shanks, a Penguin executive who had worked with Clancy from the start of his writing career through the upcoming "Command Authority," which is due out in December.
"He was a consummate author, creating the modern-day thriller, and was one of the most visionary storytellers of our time. I will miss him dearly and he will be missed by tens of millions of readers worldwide," he said.
Clancy died at Johns Hopkins Hospital. The cause of death was not immediately disclosed.
His works closely tracked Americans' security fears, moving from Cold War face-offs to terrorist attacks and both fascinated readers with their high-stakes plots and enthralled military experts with their precise details.
The books also inspired Hollywood blockbuster films including "Clear and Present Danger," starring Harrison Ford, and a series of video games, published by Ubisoft Entertainment SA.
Ford and actors Alec Baldwin and Ben Affleck played Jack Ryan, one of Clancy's most famous characters, on the big screen.
"Spending time with Tom prior to shooting was the best part of that whole experience for me," said Baldwin, who starred in 1990's "The Hunt for Red October."
"Tom was smart, a great story teller and a real gentleman."
Clancy's career also benefited from fans within Washington power circles. His 1984 debut "The Hunt for Red October," the account of a rogue naval commander on a nuclear-armed Soviet submarine, won praise from then-president Ronald Reagan, who declared it a good "yarn."
In total, Clancy published 25 fiction and non-fiction books, which also included "The Sum of All Fears" and "Rainbow Six." Later books moved on from the Cold War to deal with terrorism and friction between the United States and China.
FANS IN UNIFORM
The detail of Clancy's novels sometimes raised eyebrows in the intelligence community. According to The New York Times, in a 1986 interview, Clancy recalled meeting Navy Secretary John Lehman whose first question about "Red October" was "Who the hell cleared it?"
But the accurate description of the U.S. military won him fans in uniform.
"His earlier books were ones that had great following in the military because of their accuracy," said Tad Oelstrom, a retired U.S. Air Force lieutenant-general, who now serves as director of the national security program at Harvard University.
Around the Web