WASHINGTON, (Reuters) – U.S. Senate leaders are continuing to negotiate on legislation to raise the nation's borrowing authority and provide temporary government funding but a deal was not expected to be announced yesterday, Senate aides said.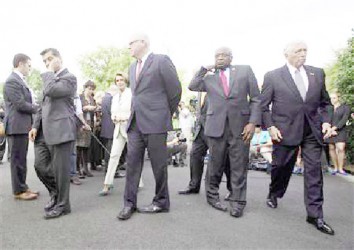 Lawmakers said a deal was close but there remained details to be worked out. The Senate and House of Representatives are scheduled to hold sessions today and they could debate any deal that Senate leaders ultimately strike.
Congress is racing against a Thursday deadline, when the Treasury Department says it will bump up against its legal borrowing limit.
The developments came after a chaotic day in which two House plans failed and Fitch Ratings warned it could cut the sovereign credit rating of the United States from AAA.
Fitch's warning cited the political brinkmanship over raising the federal debt ceiling, and helped underscore how close to an economically damaging default Washington has come.
The aide said the latest Senate deal would also fund the government through Jan. 15 as well as established a deficit reduction panel to deal with broader fiscal issues.
The aide said lawmakers in the Senate were discussing ways to speed up the process so that the Republican-controlled House could get an opportunity to act before a Thursday deadline when the Treasury Department says it will bump up against its borrowing limit, risking the nation's ability to pay bills and creditors.
"They are still working on the details between Senators McConnell and Reid. We are making good progress," said Senator Dick Durbin, the second-ranking Senate Democrat, referring to Senate Majority Leader Harry Reid and Republican Minority Leader Mitch McConnell.
House approval of any plan from the Senate remained uncertain however. Earlier in the day, Republicans in the House rejected a proposal with elements of the one being developed Reid and McConnell.
But the House was unable to come up with a plan of its own. In a span of a few hours, two plans floated by Republicans in the fractious House collapsed for a lack of support.
Both House plans failed to satisfy Obama, Senate Democrats or the small-government Tea Party wing of the Republicans, who are determined to win changes to the president's signature healthcare law before they will agree to concessions on the budget.
The first House Republican attempt was shot down in a closed-door meeting that had begun with members singing the hymn "Amazing Grace."
The second plan was scuttled hours before it was expected to hit the House floor for a vote after the influential Heritage Action for America, a conservative group, urged a "no" vote because it did not do enough to stop Obama's healthcare law.
HOUSE PLANS SCUTTLED
Heritage said it would consider the plan a "key vote" in evaluating whether to back candidates in next year's congressional elections. Shortly after that warning, a committee hearing scheduled to set rules for the debate was postponed and the plan put in limbo.
This second plan from House Republicans dropped a provision to delay a tax on medical devices that would be used to pay for Obama's healthcare plan. Obama had objected to that proposal.
Around the Web