MANILA,  (Reuters) – A scandal over lawmakers' misuse of public funds has become the biggest crisis of Philippine President Benigno Aquino's three-year rule, tainting his carefully crafted image as a corruption fighter and undermining his ability to push economic reforms.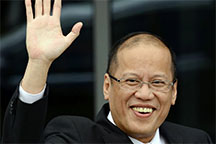 Aquino has struggled to keep the scandal at arms length since late July, when a whistleblower revealed that some lawmakers, including the president's allies, were stealing up to half the money being allocated to local projects from discretionary government funds.
While corruption allegations are far from new in the Philippines, the revelations have struck a chord with Filipinos because of the scale of the wrongdoing and the shock that little had changed despite Aquino's reform drive.
Aquino, the only son of democracy icon and former president Corazon Aquino, has tried to tap into the public mood by saying he too is outraged by the corruption, which was corroborated in a detailed report by the state auditing body.
But the allegations have drawn closer to the presidency, suggesting Aquino has failed to convincingly tackle a culture of political patronage that centres on the $586 million Priority Development Assistance Fund (PDAF), widely known as the "pork barrel". His popularity rating plunged by 15 points in a recent opinion survey to 49 percent.
The focus has now shifted to a separate development fund set up quietly in 2011 by Aquino's administration, the Disbursement Acceleration Program. Among its disbursements were transfers totalling 1.1 billion pesos ($25.5 million) to 18 senators last year after they voted to impeach the Supreme Court chief justice, who was seen as an Aquino rival.
Aquino has vehemently denied allegations this amounted to political bribery, accusing his opponents of trying to distract attention from the real scandal.
"I have never stolen. I am not a thief. I am the one who goes after thieves," Aquino said in a national television address on Wednesday night to explain his position.
GREASING THE WHEELS
Aquino, 53, won office on a platform of curbing the corruption that has drained government coffers and entrenched poverty in the Philippines, a country of 97 million people.
Since then the Philippines has recorded strong growth, improved its public finances and been awarded investment grade ratings, partly dispelling its "sick man of Asia" reputation.
Investors cite the anti-corruption drive as an important reason for the growing belief the rebound is sustainable.
Indeed, the Philippines' position on Transparency International's corruption perceptions index has improved, rising to 105th out of 176 countries and territories last year from 129th in 2011, overtaking Indonesia and Vietnam. A higher ranking means a cleaner public sector.
Aquino said in July that the country loses 200 billion pesos a year to corruption, or about 1.8 percent of economic output.
"The mistrust will affect confidence, and confidence affects investors' perception," said Astro del Castillo, managing director of Manila-based investment house First Grade Finance Inc.
The president has taken a tough line on tax evaders and launched criminal cases against former officials, including his predecessor Gloria Macapagal Arroyo, her family and allies.
Around the Web