NEW YORK, (Reuters) – A U.S. appeals court froze court-ordered reforms to the New York City Police Department's stop-and-frisk program and removed the judge who found the police tactic unconstitutional, saying she "ran afoul" of the judicial code of conduct.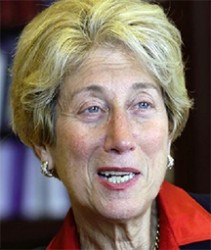 The 2nd U.S. Circuit Court of Appeals ruling was at least a temporary victory for Mayor Michael Bloomberg and the NYPD, who have argued that stopping, questioning and frisking suspicious people has led to a steep decline in crime rates.
The three-judge panel's ruling had no implications for the merits of the case and instead was a rebuke of U.S. District Judge Shira Scheindlin. The judges faulted Scheindlin for failing to appear impartial in public statements and media interviews in which she answered critics of her ruling.
Just two months ago, Scheindlin became a hero of civil rights and civil liberties groups when she struck down parts of stop-and-frisk, ruling that it amounted to "indirect racial profiling" that resulted in the disproportionate and discriminatory stopping of blacks and Hispanics. She also ordered a federal monitor to oversee changes to NYPD practices.
New York police will be allowed to revert to previous stop-and-frisk tactics at least until March, when the same three-judge panel will hear the city's appeal of Scheindlin's ruling. The appeals court could still uphold Scheindlin's decision, but she would no longer have any role in the case.
The court's removal of Scheindlin was an exceedingly rare action and an indication of how displeased the judges were with her.
The city and the NYPD welcomed the decision, having previously said they failed to receive a fair hearing from Scheindlin.
"We could not be more pleased with the court's findings," said Corporation Counsel Michael Cardozo, the city's chief attorney, who called Scheindlin's ruling "unjustified and deeply problematic."
The case "will now receive a fresh and independent look both by the appeals court and then, if necessary, by a different trial court judge," Cardozo said.
Around the Web