NEW DELHI (Reuters) –  Indian security forces are preparing for one of their most challenging assignments in decades, protecting prime ministerial candidate Narendra Modi in a country with a grim history of political assassinations.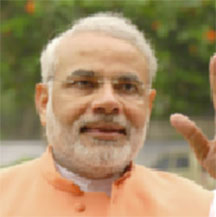 A series of small bombs killed six people at a rally the Hindu nationalist leader held in the city of Patna on October 20.
Authorities said the home-grown Indian Mujahideen (IM) group was responsible. While Modi was not in the immediate vicinity of the explosions, the message was clear.
"Narendra Modi is way above everyone else on their hit list," said an officer in the Intelligence Bureau, who declined to be identified as he is not authorised to speak to the media.
"The IM cadre say he is actually 1 to 10 on their list. The rest come after that," said the officer, citing confessions of captured militants.
Modi will lead his Bharatiya Janata Party into a general election due by May and his enemies will almost certainly be looking for another opportunity to strike.
The militants hold Modi responsible for riots in 2002, during his first term as chief minister of Gujarat state, in which at least 1,000 people, most of them Muslims, were killed.
Modi denies any role in the riots or bias against minority Muslims.
Communal animosity has led to several high-profile assassinations in India, beginning months after independence when a Hindu fanatic gunned down Mahatma Gandhi, the leader of a non-violent struggle to throw off British rule.
Prime Minister Indira Gandhi, who was not related to Mahatma Gandhi, was killed by Sikh bodyguards in 1984 and her son, former Prime Minister Rajiv Gandhi, was killed by an ethnic Tamil suicide bomber in 1991.
The election is shaping up to be a highly charged clash with Modi and his aggressive Hindu nationalist supporters facing off against their Congress-led rivals, who say the vote is a fight to preserve India's secular foundations.
Much of the battle will be waged at public gatherings. Even in these days of 24-hour news channels and the Internet, Indian election campaigns hinge around rallies.
Modi will address countless throngs in coming months in his race against the Congress-led coalition which is expected to put up Rajiv Gandhi's son, Rahul Gandhi, as its prime ministerial candidate.
An elite team protecting Modi has been ordered to secure all public meetings using the same tactics of the Special Protection Group that guards former and serving prime ministers and their families along the lines of the US Secret Service.
Spotters in disguise will mingle in the crowds while an advance team will "sanitise" sites six times, the last time an hour before Modi's arrival, a security official said.
"Sewage pipes, manholes, you plug every hole in the ground and above," said the official.
Around the Web