KIEV (Reuters) – Ukraine's political opposition said yesterday it would call a general strike to force the resignation of President Viktor Yanukovich's government after police used batons and stun grenades to break up pro-Europe protests.
Some 10,000 protesters regrouped in Kiev, flooding a square outside a church. They waved the blue and gold EU flag and chanted 'Revolution' and 'Down with the gang'.
Further rallies were planned for today in the capital Kiev and other cities. Police promised there would be no repeat of the violence seen in the early hours of Saturday.
Helmeted police stormed an encampment in Kiev's Independence Square where protesters were singing and warming themselves by campfires early in the morning, the opposition said.
Tension had been building since Friday, when Yanukovich declined to sign a landmark pact with EU leaders at a summit in Lithuania, going back on a pledge to work towards integrating his ex-Soviet republic into the European mainstream.
Late on Friday live bands had played and the youthful crowd had brought almost a party spirit to the demonstration.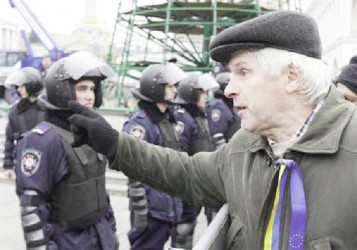 The protests evoked memories of the "Orange Revolution" of 2004-5, led by jailed former Prime Minister Yulia Tymoshenko, against election fraud which doomed Yanukovich's first bid for the presidency. But those protests were much larger and took place peacefully without police action.
Yesterday's violence, in which police used stun grenades and batons, was unprecedented in Kiev.
Yanukovich, in an address carried on his website, said he was "deeply outraged" by the violent confrontation and injuries to people. He called for an immediate, objective investigation, but did not specifically blame police. TV footage showed police beating one young woman on the legs and kicking young men on the ground during the clashes.
EU officials, who had attended the EU Vilnius summit with Yanukovich, condemned what they called "excessive use of force."
"The unjustified use of force goes against the principles to which all participants of the Vilnius Summit…reaffirmed their adherence," European Union foreign policy chief Catherine Ashton and EU enlargement chief Stefan Fuele said in a statement.
Around the Web