KIEV, (Reuters) – Ukrainian opposition leaders called yesterday for President Viktor Yanukovich and his government to resign at a huge pro-Europe rally of about 350,000 people, marred by violent clashes between protesters and riot police.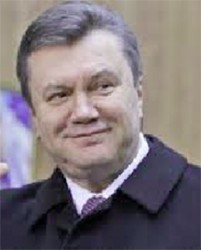 In the biggest protest in the capital Kiev since the "Orange Revolution" of nine years ago, opposition leaders denounced Yanukovich for walking away from a pact offered by the European Union and swinging trade policy back toward Russia.
"They stole the dream," heavyweight boxer-turned-opposition politician Vitaly Klitschko told crowds on Independence Square.
The opposition urged people to demonstrate peacefully and avoid being provoked by the authorities into antagonising police.
But violence erupted nonetheless with police using tear gas and stun grenades near the presidential administration. Police later clashed with a group of masked protesters trying to pull down a monument to Soviet state founder Vladimir Lenin.
Tens of thousands of Ukrainians swept on to Kiev's Independence Square, chanting "Down with the Gang!" and waving the Ukrainian flag and EU standard, in condemnation of Yanukovich's U-turn away from the EU.
Around the Web