JOHANNESBURG,  (Reuters) – In the 10 years after he withdrew from public life, Nelson Mandela divided his time between a mansion in one of Johannesburg's wealthiest suburbs and his ancestral home in Qunu, a village in South Africa's impoverished eastern Cape.
The contrast could not have been starker.
In one, his neighbours were cast in the image of the white "Rand Lords", the mining magnates and bankers who built the sprawling city – and Africa's biggest economy – from the vast gold reserves in the rock beneath their feet.
In the other, they were black peasant farmers living in thatched "rondavel" huts and eking out a living on windswept hillsides in scenes that have hardly changed in centuries, let alone the two decades since the end of apartheid.
While few query Mandela's achievement in dragging South Africa back from the brink of civil war in the early 1990s and brokering a peaceful end to three centuries of white dominance, tougher questions are being asked of the country he leaves behind.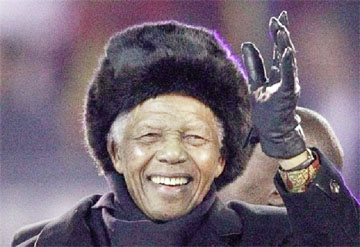 Despite more than 10 years of affirmative action to redress the balance under the banner of "black economic empowerment", South Africa remains one of the world's most unequal societies and whites still control huge swathes of the economy.
In the words of leading trade unionist Zwelinzima Vavi, its structure is akin to an Irish coffee – black at the bottom, with some white froth and a sprinkling of chocolate on the top.
On average, a white household earns six times more than a black one, and nearly one in three blacks is unemployed, compared with one in 20 whites.
Such ratios are fodder for critics of the 1994 settlement that brought the curtain down on nearly half a century of institutionalised white-minority rule and saw Mandela anointed South Africa's first black president.
The numbers also support the anecdotal evidence from wealthy urban neighbourhoods – including Mandela's Houghton – where, 19 years after the birth of his "Rainbow Nation", most of the black people to be seen are housemaids, security guards or gardeners. "Mandela has gone a bit too far in doing good to the non-black communities, really in some cases at the expense of (blacks)," Zimbabwean President Robert Mugabe said in a documentary aired on South African television in May 2013.
"That's being too saintly, too good."
 POLITICAL OR ECONOMIC POWER?
The defenders of Mandela's settlement note that Mugabe's violent seizure of white-owned farms in neighbouring Zimbabwe from 2000 triggered an eight-year economic collapse and confirmed his fall in the eyes of outsiders from respected liberation hero to international pariah.
Yet his criticism of Mandela finds echoes in some corners of the African National Congress (ANC), the 101-year-old liberation movement that joined forces with the unions and the Communist Party to topple apartheid. In a 2010 interview with the wife of British author V.S. Naipaul, the anti-apartheid firebrand and "Mother of the Nation" Winnie Madikizela-Mandela accused her former husband of selling out after being broken by his 27 years in apartheid prisons.
"Mandela did go to prison and he went in there as a burning young revolutionary. But look what came out," she was quoted as saying. "Mandela let us down. He agreed to a bad deal for the blacks. Economically, we are still on the outside. The economy is very much 'white'. It has a few token blacks, but so many who gave their life in the struggle have died unrewarded."
Even among academics, there is broad acceptance that in its sparring with then-president FW de Klerk in the early 1990s, the ANC under Mandela, a self-confessed economic novice, focused too much on the quest for political rather than economic power.
Around the Web