(Reuters) – Nelson Mandela was hailed yesterday as a champion of reconciliation who "achieved more than could be expected of any man," as people the world over mourned his death and celebrated his triumphant fight against apartheid in South Africa.
"Today he's gone home, and we've lost one of the most influential, courageous and profoundly good human beings that any of us will share time with on this earth," U.S. President Barack Obama said of Mandela, who became South Africa's first black president.
Obama, who himself made history when he was elected in 2008 as America's first black president, noted his first involvement in anything political was a protest against apartheid, the system of white rule in South Africa.
"He achieved more than could be expected of any man," said Obama, who is expected to go to South Africa for Mandela's state funeral. The flag over the White House was lowered to half-staff after Mandela's death.
"Nelson Mandela was a hero of our time," British Prime Minister David Cameron wrote on Twitter. "A great light has gone out in the world.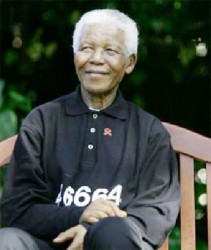 A somber South African President Jacob Zuma, announcing that Mandela died at his Johannesburg home yesterday after a prolonged lung infection, said, "Our people have lost a father.
"Although we knew this day was going to come, nothing can diminish our sense of a profound and enduring loss. His tireless struggle for freedom earned him the respect of the world. His humility, passion and humanity earned him their love," Zuma added.
Mourners gathered outside Mandela's home and spontaneous tributes sprang up around the world.
The famed Apollo Theater in the Harlem neighborhood of Manhattan, which Mandela visited in 1990, lit its marquee with the words: "In memory of Nelson Mandela … He changed our world."
In Washington, flowers and candles were set at the base of a statue of Mandela outside the South African Embassy.
Dijon Anderson, a teacher from Bowie, Maryland, who came with his sons to pay respects, said, "I feel privileged to even say that I lived during the same time he was here."
At "Madiba," a Brooklyn, New York, bar called after Mandela's Xhosa clan name, mourners gathered to remember him.
Denis Du Preez, the bar's co-owner and a native South African, said he planned to release lit lanterns into the sky in Mandela's honor. The bar, a home away from home for Africans, is decorated with Zulu designs and large posters featuring Mandela's face.
 REVERED FIGURE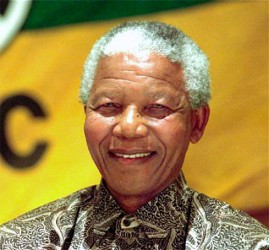 Mandela emerged from 27 years in apartheid prisons to help guide South Africa to democracy, becoming one of the world's most respected and loved figures. He was elected president in landmark all-race elections in 1994 and retired in 1999.
F.W. de Klerk, South Africa's last white president, who freed Mandela from prison in 1990 and shared the Nobel Peace Prize with him in 1993, praised him "as a great unifier and a very, very special man in this regard beyond everything else he did.
"This emphasis on reconciliation was his greatest legacy," de Klerk told CNN.
"Like a most precious diamond honed deep beneath the surface of the earth, the Madiba who emerged from prison in January 1990 was virtually flawless," fellow South African Nobel peace laureate Desmond Tutu, said of Mandela.
"Instead of calling for his pound of flesh, he proclaimed the message of forgiveness and reconciliation, inspiring others by his example to extraordinary acts of nobility of spirit," Tutu, archbishop emeritus and anti-apartheid activist, wrote in the Washington Post.
Bill Clinton, U.S. president during Mandela's time as South African leader, said history would remember him "as a champion for human dignity and freedom, for peace and reconciliation. We will remember him as a man of uncommon grace and compassion, for whom abandoning bitterness and embracing adversaries was not just a political strategy but a way of life."
Former U.S. President George H.W. Bush, who was in office when Mandela was released from prison in 1990, said: "As president, I watched in wonder as Nelson Mandela had the remarkable capacity to forgive his jailers following 26 years of wrongful imprisonment – setting a powerful example of redemption and grace for us all."
'FREEDOM FIGHTER'
The U.N. Security Council in New York was in session when the ambassadors received news of Mandela's death. They stopped their meeting and stood for a minute's silence.
"Nelson Mandela was a giant for justice and a down-to-earth human inspiration," U.N. Secretary-General Ban Ki-moon told reporters. "Nelson Mandela showed what is possible for our world and within each one of us if we believe, dream and work together for justice and humanity."
Nigerian President Goodluck Jonathan, leader of Africa's most populous country, said Mandela's death "will create a huge vacuum that will be difficult to fill in our continent."
Around the Web