NEW DELHI,  (Reuters) – India's ruling Congress party has a very big problem, and his name is Narendra Modi.
With no more than five months to go before nearly 800 million people choose their next leader, the prime ministerial candidate for the main opposition party has seized the initiative through rabble-rousing speeches at huge rallies across the country.
Results from local elections in four states, announced yesterday, suggest Modi, chief minister of economic powerhouse Gujarat in the west of the country since 2001, has helped galvanise his Hindu nationalist Bharatiya Janata Party (BJP).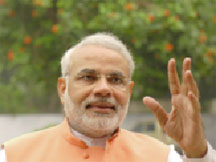 With most votes counted, the BJP retained Madhya Pradesh and ousted Congress in Rajasthan, while the state of Chhattisgarh was on a knife-edge.
In Delhi, the BJP is set to be the biggest party, with Congress pushed from first to third place by an impressive debut from the anti-corruption Aam Aadmi Party.
The outcome fell short of the BJP's most bullish predictions, and represented a vote of no-confidence in Congress as much as one of confidence in Modi, but it was a humiliating blow that the opposition candidate will ruthlessly exploit.
Congress has floundered in the face of the Modi phenomenon. It is unsure how seriously to take him, undecided on what to do next and hampered by a presumptive leader who has lacked his challenger's charisma, leaving the party drifting at a crucial juncture.
Senior figures within Congress – in power for the last nine years, and historically the dominant force in Indian politics – have long dismissed Modi as irrelevant.
"Modi has come in a flash and will go in a flash," said one influential party member in a recent interview.
"Congress has been here for 128 years and will survive god knows how many hundreds of years more," he added, in a now-familiar refrain from the party's top brass.
That argument is becoming harder to sustain.
But as Congress fumbles for a response, one name dominates debate at the party's slightly shabby headquarters in the leafy centre of the capital: Rahul Gandhi.Vice president of Congress and scion of a dynasty that has towered over Indian politics since independence, the 43-year-old is the obvious choice to rally his party and unite voters by playing up its secularist agenda and social welfare schemes.
Around the Web