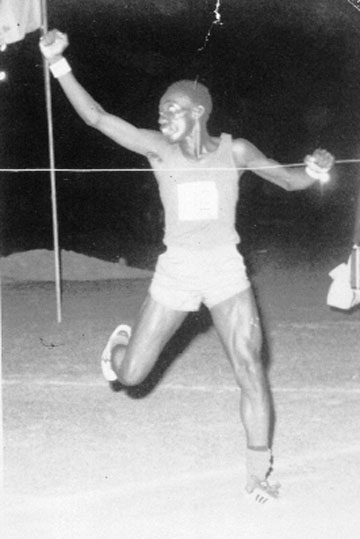 Dear Editor,
He basked in glory during the 1970s-1980s, announcing his arrival in the athletics arena in fine style at the age of fifteen. Like lava from a volcano, obliterating everything in its path, he dominated the national middle distance 800 and 1500 meter races. This strongly built athlete is none other than born and bred Lindener, Elton Barker. Now fifty-six years old, he is especially well remembered for his  scintillating victories in his hometown at the Mackenzie Sports Club, the mecca of sport in the mining town, and the springboard of his athletic career. Elton is still athletically active, though not competitively, except on some special occasion like the 'Women On The Move' annual cancer run event, in which he participated in 2009 and 2010. Today he resides quietly in his home in Amelia's Ward and can be seen walking around the community with the aid of a cane due to failing eyesight, conducting his business.
Elton Barker started his athletics career at St Aidan's Anglican School at Wismar, running the 100 and 200 metres at the inter-primary school sports where he placed 4th in one event.
He was spotted in a 1500 metres race by former distance runner Edward 'Dukie' Duke who saw great potential in him and invited him to join the MSC which he eagerly did. 'Dukie' subsequently became his trainer.
As he related, he was not specialized in any distance, but began training with the likes of Herbert Jones, Kenneth Fudgenay, Ewart Padmore, Charles Washington, Juliet 'Pepper' Fredricks, Roxanne Silla, Paula Smorner, Lorraine Jordan, among others, all top athletes and members of MSC. He further related what a setback it was for him being the lone one training without running shoes, and the pure joy and elation he felt when he was awoken at 4am one morning by his father who said to him: "Get dress we are going to Georgetown to buy a running shoes."
In 1971, John Martin, an athletic coach from the USA was employed by  Guybau (the bauxite company), and under Martin's stewardship he began training for the 400m along with Aubrey 'Skinny' Wilson. In that year they both became national 400m champions; himself winning at the junior level and Wilson at the senior before leaving for the USA on a scholarship.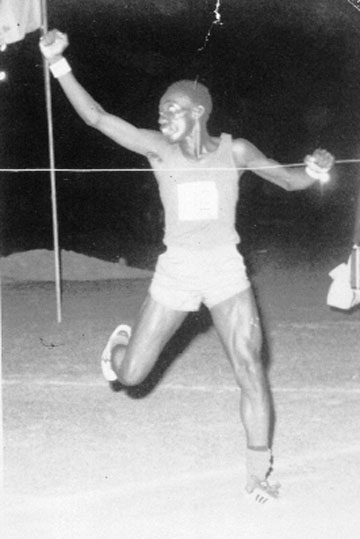 The year 1973 was his to cherish; it was the year of shattering records. He represented Guyana in Trinidad at the Junior Carifta Games, where he won a bronze medal in the 1500m, a race he does not fondly recall. According to him, had he run the race his way, he would have won, since he had gone ahead some 75 yards from the pack to avoid any dirty tricks from the much bigger guys who constantly elbowed him, but poor advice from former national long distance and marathon champ and coach, the late  Clem Fields, who told him to "take it easy," caused him to lose the race: "Them men pocket me."
Recalling a somewhat amusing anecdote, he said this white athlete who came down from Canada to compete, so skilfully held on to him that not even the judges could have detected it; "Duh man do this thing clean boy!" Thus cherished advice which he said he never forgot was that given to him by his mentor 'Dukie' who told him: "When yuh passing them pass with speeeeddd! so they would not have the time to entertain the thought of tagging yuh."
On his return from the Carifta Games he turned his attention to National Schools Championship where he defeated senior champions in the 800 and 1500m, and became the national junior and senior champ. Prior to that he broke three records at the Upper Demerara Inter-Primary School Sports in the 400, 800 and 1500m open, destroying all and sundry. But there were other records that were also broken: Juliet 'Pepper' Fredricks broke the 100, 200 and 400m under sixteen female; Pearl Moore broke the 100 and 200m female open; and Leland McBeth did likewise in the 100 and 200m male open. Sadly after such outstanding performances they were all debarred from the upcoming national championship. As Elton explained, their excellent showing which was published in the newspapers got the attention of the Georgetown based Teachers' Association, which, fearing that a repeat of such performances would deny their area a championship win, made a brazen and unsubstantiated claim that they were all over age! Then subsequently for their own reasons they allowed himself and 'Pepper' Fredricks to participate, confident that they both would be beaten by their two top athletes, Oliver Alves and Waveney Benn. As it turned out their 'dream pair' were blown away. Disheartened and disappointed, the association reverted to their unfounded over-age claim. This mean and unsportsmanlike display made Elton down-spirited, since he had badly wanted to come out on top at the National Schools Championship, thereby earning a scholarship to a high school. But he went on to say, "Till now I does remember the words of  'Skinny' Wilson: 'If yuh want a scholarship go and live in town.'''
The tussle between himself and Oliver Alves went on for some time, but in the end  Alves was fairly and soundly beaten, "Alves couldn't smell me" he quipped. Elton took part in several international meets in the Caribbean between Barbados, Trinidad, Grenada and Guyana, and remembered one Donald Pear of Grenada as one of the Caribbean's better 800m runners.
Representing the Administration Department during the exciting years of the Guybau/Guymine Games, he was decorated sportsman of the year for four consecutive years – 1975 to 1978, with Juliet 'Pepper' Fredricks winning the female award in 1978.
His last international race was in 1988-89 by which time he had a family to take care of and had lost some of his appetite for athletics, but what has been ingrained in us is not always that easy to abandon. And so once again he returned to the starting line to compete in the half marathon on two occasions, placing 3rd and fourth.
He humorously attributes the early development and strengthening of his leg muscles to his "British bull dog," a pair of industrial safety boots given to him by his father – one side weighing about 2½ lbs. Running regularly from St Aidans School along Burnham Drive to Katapuli Creek and back, approximately one mile with those boots on and constantly winning surely helped.
In retracing his training programme he became a bit animated, describing it as stiff, consistent and concerned with detail. He ran regularly five days a week (Monday-Friday) after work in the afternoons from MSC to Millies Hide Out on the Linden Highway and back, some 5.54 miles as a warm-up before getting into other exercises; strategy, tactics and code signals were also meticulously worked out, and a game plan clinically crafted to triumph over rivals.
A complete athlete – if there be such a term – Elton has been involved in swimming, martial arts,
body building, weight-lifting, all at a competitive level. He is saddened by the fact that with the changes that have taken place there is nothing to equate with the Guymine v Guystac scenario that once existed where competition was of a quality standard and saw the emergence of some of Guyana's better athletes. If it were maybe we would have had many more Olympics hopefuls.
He sees the need for more clubs which will automatically encourage much more competition and rivalry among young people who will not have to sit around and wait for annual school sports. He believes too that young athletes should focus more on breaking and setting records and not just on competing.
It is really a sad state of affairs that outstanding athletes of yesteryear, some of whom were the pride of Linden are so unceremoniously cast aside, and hardly remembered. There are no well kept records and photographs of them exhibited in their locality or nationally, not even in the clubs they once represented. Elton Barker etched a place for himself in the athletic pantheon, and did Guyana proud.
Yours faithfully,
Frank Fyffe
 
Comments
Dear Editor, Minister Trotman is reported (18th Jan) as stoutly defending ExxonMobil's investment here.
Dear Editor, "We, the under-signed representatives of the sovereign people of the Caribbean hereby declare that President Donald Trump of the United States of America is 'Persona Non Grata' in our Caribbean region.
Dear Editor, It may not be a case of long awaited sanity coming to the fore here in Guyana, but of good old common sense prevailing. 
Dear Editor, For ten years now the access roads and cross streets at the front compound of the housing scheme at Onverwagt, West Coast Berbice have been neglected.
Dear Editor, In response to a few queries concerning the questionable voting by Sunil Rasul, who has cast his personal vote in support of the parking meter contract, I wish to make it pellucidly clear that Rasul has been occupying the council seat illegally since November of 2017, and without the support of Team Benschop.