LOS ANGELES,  (Reuters) – The Denver Nuggets dropped the stumbling Los Angeles Lakers further into the doldrums on Sunday with a 112-105 win despite some fourth-quarter fireworks from Kobe Bryant.
Ty Lawson scored 21 points and 10 assists and Danilo Gallinari hit five of his 20 in the final seconds to kill the Lakers' rally and send them to a third successive defeat.
The Lakers (15-18) left with more than their pride bruised, Pau Gasol exiting the contest in the fourth quarter after having his nose bloodied by an elbow from JaVale McGee.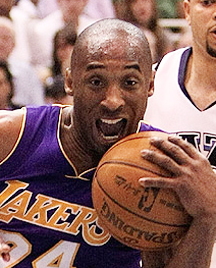 Center Dwight Howard also aggravated a right shoulder injury and will undergo scans on Monday.
"It's a great win for us but I'm not going to inflate it," Nuggets coach George Karl told reporters.
"I told the team before the game I don't remember the last time we won in here in the regular season."
Bryant did his best to rescue Los Angeles again by scoring 18 of his 29 points in the final quarter but the Lakers fell just short in front of a frustrated home crowd.
Los Angeles trailed by 10 midway through the fourth, although they fought back as Bryant twice made three-pointers to pull them within three in the final minute.
Gallinari drained a three of his own to halt the comeback with 13 seconds remaining and Denver (20-16) made four straight free throws to ice the game for their third win in four.
The Nuggets scored 60 points in the paint to punish Los Angeles inside. Howard put in a solid shift, recording 14 points and 26 rebounds in the loss but his injury will cause concern.
The Lakers have now lost four of five and are tumbling down the standings under new coach Mike D'Antoni and his star-studded roster.
Tempers flared as Steve Nash and Gasol were both assessed rare technical fouls.
"I think because of our record probably the pressure is building," admitted D'Antoni, whose team is currently out of the playoff picture. "But so be it. We have to overcome it."
RESULTS:–  (Infostrada Sports) – Results from the NBA games on Sunday (home team in CAPS) Oklahoma City 104 TORONTO 92 MIAMI 99 Washington 71 Charlotte 108 DETROIT 101 (OT) Memphis 92 PHOENIX 81 Denver 112 LA LAKERS 105
Around the Web