KINGSTON, Jamaica, CMC- Cricket officials here have defended their decision to omit Chris Gayle from the Jamaica squad for the Caribbean T20 tournament currently underway in Trinidad and Tobago.
Gayle, presently participating in the Australian Big Bash League, would have been available for the lucrative two-week tournament due to the early exit of his team, Sydney Thunder, from the Big Bash T20
However, Chairman of selectors, and former spinner Courtney Daley, says the panel made its decision taking into consideration the possibility of injury to players.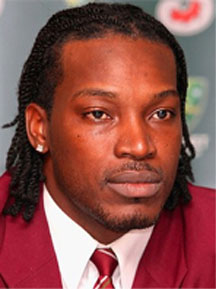 "It is a case where we have to bite the bullet and move on," said Daley, who leads a three man selection panel that also includes former West Indies left-handed batsman Robert Samuels and former national opener Delroy Morgan.
"It's Gayle yes, but injuries can happen (to the players selected) and if that was to happen, what would we do?"
Gayle, one of the leading Twenty20 cricketers in the world, but who has had a poor run of form in Australia, is due to play his final match for the winless Thunder today.
According to Daley, Gayle had given a commitment to play for Jamaica once the Thunder exited the Big Bash League.
"It's a risk we were not prepared to take even if other teams are willing to do so" Daley told the Gleaner.
"..And from here it is just a matter of we will have to play with who we have".
Two-time winners and joint hosts, Trinidad and Tobago, worked out an arrangement with top players Kieron Pollard and Sunil Narine, and their Big Bash clubs Adelaide Strikers and Sydney Sixers, to facilitate their participation in the Caribbean T20.
Around the Web