PORT OF SPAIN, Trinidad, CMC – There was no fairytale start to Trinidad and Tobago's quest for a third Caribbean Twenty20 title as their curtain-raiser against archrivals Jamaica ended disappointingly in a no-result, after rain washed out the contest on Sunday night.
The hosts suffered a batting meltdown and struggled to a paltry 128 for nine and Jamaica had reached five without loss off eight deliveries when heavy rain swept across Queen's Park Oval, leaving a water-logged venue and dashing any hopes of a resumption.
After a lengthy delay, the match was abandoned at midnight, leaving both teams to settle for two points.
All-rounder Dwayne Bravo top-scored with 30 and captain Denesh Ramdin got 19 but T&T failed to mount a serious batting effort after winning the toss and opting to bat first.
Left-arm seamer Krishmar Santokie (2-17) and medium pacer David Bernard (2-24) claimed two wickets apiece while out-of-favour West Indies left-arm spinner Nikita Miller produced a four-over spell that cost just 18 runs, which strangled the T&T batsmen.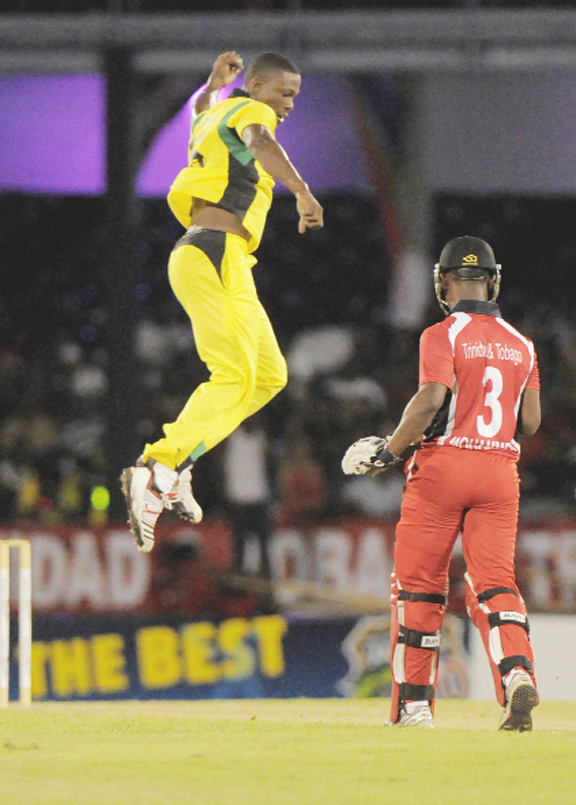 Both openers Lendl Simmons and William Perkins stuttered, putting on 19 runs from 20 deliveries before being separated. The right-handed Perkins had gathered just nine from 12 balls before he holed out to long on off Bernard in the fourth over, attempting to force the pace.
Stylish left-hander Darren Bravo (13) seemed intent on taking Jamaica's attack apart from the outset, smashing the eighth delivery he faced over the long-on fence and clipping the next ball to the square leg boundary.
However, T&T then suffered a huge setback when Bravo and his Windies teammate Simmons departed with no addition to the score.
The right-handed Simmons, who has struggled with poor form of recent, extended his dismal run when he edged West Indies seamer Andre Russell behind for 11 at 39 for two in the seventh over.
Three balls later, Bravo played one too many big shots too early and perished on the deep cover boundary to a fine running catch by Nkrumah Bonner off Bernard.
Dwayne Bravo and Ramdin then came together in 48-run, fourth wicket stand off 46 balls to stitch up the innings and put T&T back on course for a competitive total.
The West Indies all-rounder faced 27 balls and struck two fours while Ramdin counted one boundary off 24 balls.
However, neither could find the acceleration required as Miller especially dried up the runs in a frugal spell that failed to serve up a single boundary for the Trinidadians.
Ramdin and Bravo then fell in successive overs, sparking another slide that saw six wickets fall for 41 runs off the last 31 balls of the innings.
Ramdin charged leg-spinner Odean Brown and was bowled in the 15th over and Bravo then smacked a full toss from Miller into John Campbell's lap on the long-on ropes.
Sunil Narine helped himself to a four and a six in a brief cameo of 16 from nine balls to provide some late fireworks but there was no free flow of runs as Jamaica kept their foot down.
Scoreboard
TRINIDAD & TOBAGO
L Simmons c wkp Lambert
b Russell                                                                              11
W Perkins c Russell b Bernard                                    9
DM Bravo c Bonner b Bernard                                  13
*+D Ramdin b Brown                                                     19
DJ Bravo c Campbell b Miller                                     30
J Mohammed b Cotterrell                                              4
S Narine  b Santokie                                                        16
K Cooper lbw b Santokie                                                8
K Ottley run out                                                                 9
S Badree not out                                                                 1
S Gabriel not out                                                                0
Extras: (lb1, w7)                                                                 8
TOTAL: (9 wkts; 20 overs)                                     128
Fall of wickets: 1-19 (Perkins, 3.2 overs), 2-39 (Simmons, 6.4), 3-39 (DM Bravo, 7.1), 4-87 (Ramdin, 14.5), 5-89 (DJ Bravo, 15.3), 6-110 (Narine, 18), 7-110 (Mohammed, 18.1), 8-127 (Ottley, 19.2), 9-128 (Cooper, 19.4)
Bowling: Santokie 4-0-17-2, Cotterrell 4-0-36-1 (w2), Bernard 3-0-24-2 (w4), Russell4-0-25-1, Miller 4-0-18-1 (w1), Brown 1-0-7-1
JAMAICA
N Bonner not out                                                           4
J Campbell not out                                                       0
Extras:   (lb1)                                                                1
TOTAL: (without; 1.2 overs)                                  5
Did not bat: O Brown, D Bernard, S Cotterrell, D Hyatt, *+T Lambert, N Miller, A Russell, K Santokie, A Thomas
Bowling: Gabriel 1-0-4-0, S Badree 0.2-0-0-0.
Result: No result.
Points: Jamaica 2, T&T 2
Toss: T&T.
Umpires: Gregory Brathwaite, Nigel Duguid; TV – Peter Nero
Around the Web